Crossing milestones of any kind is always special, as it reminds us of the journey thus far and helps us look to the future optimistically. My team and I are extremely proud and excited to share that this summer marked the opening of the 105th hotel where we were involved in performing the feasibility, with many more actively under development. This of course comes along with the fact that we would have performed over a 1000 feasibilities that never got built and approximately 1,500 hotel valuation studies done over the same period.
I performed my first hotel feasibility study in India back in 1997. This was a mixed-used development for IHCL, which would have become the country's first integrated hotel, serviced apartments and convention centre at Bandra Kurla Complex in Mumbai; however, this project never took off. And, in case you haven't guessed already, this is the exact same site that will shortly open as the Jio World Centre by Reliance.
Subsequently, it was a feasibility I did in 1998 that went on to become the first hotel that opened with our involvement. The location was unusual and way ahead of its time. Today, it operates as the ITC Grand Central, A Luxury Collection Hotel in Parel, Mumbai. Unfortunately, as with many hotel projects in the country, the opening was delayed, and the property commenced operations only in 2005.
In the first few years of my work experience in India, there were no credible sources of data on various hotel markets. So, my team and I decided to conduct extensive, bottom-up industry research ourselves that led me to author our first Hotels in India – Trends and Opportunities Report (T&O) in 1997. Google had just launched at the time, with negligible usage in the country. Thus, we had to go to various government offices requesting for data on infrastructure projects, city development plans, number of licensed hotels, tourism trends and so forth – anything that could aid our understanding of the market and help us determine the feasibility of a hotel project. Eventually, the T&O Report went on to be heavily relied upon by the industry as a benchmark, and we have released it every year since then, with the 2019 edition published last week.
Given below is a selection of hotels where we were fortunate to be involved, some of which are amongst the most iconic developments in India.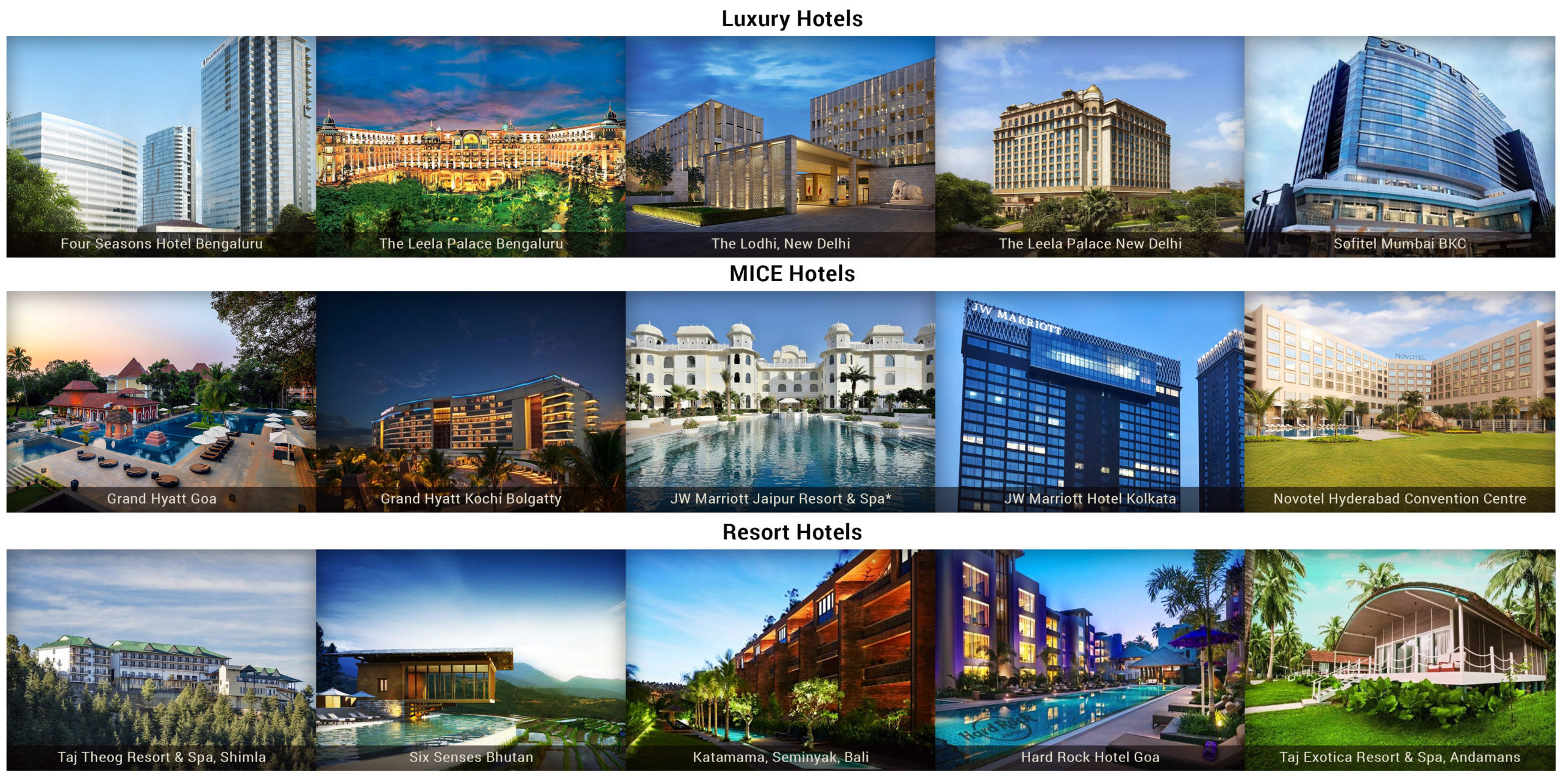 Hotels Opening Shortly
Hilton Saipem Hills, Goa, Taj Fomento Resort, Goa, Potato Head Resort, Bali, Anantvilas BKC, Mumbai, Courtyard by Marriott, Mawna, Dhaka
Hotel feasibility studies help assess the practicality of a proposed development. This often requires a balancing act between "'the obvious" economic viability of the project, and "the not-so-obvious" owner/developer's expectations – in other words, Return on Investment (ROI) vs Return on Ego (ROE), a phrase I coined while learning to find a middle course between the two over the years. It is also a polite way of telling owners/developers that they would risk losing money if they went ahead with a certain hotel project in its present form. 
Then, there were also hotels that never got developed for various reasons, including perhaps our error of judgement and where the owners did not have the financial resources or legal permissions to develop the hotels. Five such projects especially come to my mind: The Park Hyatt, Kolkata; Sofitel, Goa; Mandarin Oriental, Mumbai; Hilton, New Delhi and MGM Hotel, New Delhi. 
Overall, it has been a gratifying experience to play a critical role in contributing around 18% of the branded hotel room inventory in India across nearly 30 cities. This of course wouldn't have been possible without the amazing colleagues I have had over the past two decades, many of who hold leadership positions in prominent hotel companies like Marriott, Hilton, Radisson, Yotel and Accor. I am also very grateful to our patrons and clients for their faith in me and my team. We look forward to growing alongside you, with same enthusiasm and dedication you have come to expect from our team. Thank you!