All About the All-Inclusive Model
All-Inclusive (AI) resorts are a well-known concept on the global stage. With their primary footprint in Mexico and the Latin Americas, the largest players, such as Club Med, have continued to enjoy success. Historically recognised as suitable options for couple getaways, a paradigm shift led these resorts to modify their value proposition to attract families by designing special experiences for children. Moreover, from their initial target segment of price sensitive customers, the AI model has rapidly evolved to include elaborate food and beverage offerings, unique experiences, and wellness treatments among others. Yet, AI resorts have not yet developed into a popular option within India.
Figure 1: Most Successful AI Hotel Companies Globally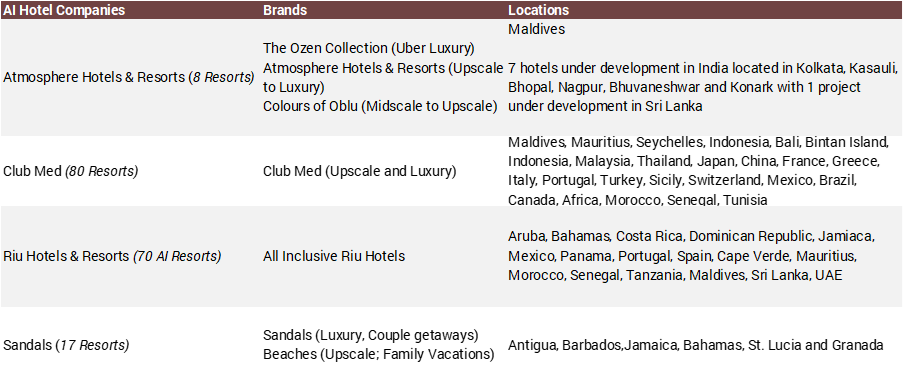 The overall model of an AI resort is simple to grasp: the hotel provides the total cost for guests to enjoy a vacation inclusive of accommodation, meals, activities, select other facilities and experiences. Most resorts also offer upgrades at an additional cost. The key attractions of this model for customers are transparency (as there are no hidden charges or other costs to account for) and convenience (as payments are usually settled prior to check-in). Comparing these features with the characteristics of the typically price-sensitive, convenience-obsessed Indian customer makes it difficult to understand the dearth of AI resorts in India.
Why does All-Inclusive Work?
As mentioned above, under the AI model, hotels provide customers with a single price to cover most needs. The individual cost of accommodation, meal periods and other services is usually unnecessary to provide as these resorts tend to exclusively offer an AI option. While there may be tiered versions of the package with additional inclusions, other standard hotel packages, such as a Continental Plan or American Plan, are unlikely to be available. The concept of free-flowing food and alcohol, intuitively, might seem risky or profit-averse; however, there are certain key features of the AI model which allows these resorts to report impressive margins:
By mandating an AI experience at the resort, hotels increase the average value per guest by charging upfront for all meals and other inclusions, regardless of the eventual quantity consumed.
These resorts enjoy cost efficiencies as food, beverage and other requirements can be relatively accurately forecasted. Restaurants will typically feature buffet spreads or limited menus across meal periods which allows for a higher degree of predictability than an a la carte outlet. Moreover, having once paid the AI rate, guests are likely to opt for only the included beverages and items which further allows for inventory control.
Staff can focus on guest engagement and creating special experiences instead of time-consuming tasks such as order punching, invoice settlement and checking guest bookings to confirm package details. This not only improves the potential for memorable experiences to be created but also the staff's ability to practice upselling. AI resorts enjoy strong revenues by charging separately for special inclusions, additional services and exclusive activities.
Most AI resorts rely on customers spending all their time within the property and act as destinations in and of themselves. The hassle-free check-in and check-out experience along with special attention that the staff is able to provide works to inspire repeat visits which reduces customer acquisition costs.
Nonetheless, it is important to qualify the primary risk associated with an All-Inclusive Resort. All inclusions, from activities to food and beverage, must remain always-on and available at an AI resort regardless of the occupancy level. For example, AI resorts developed with the anticipation of a high average length of stay will typically feature multiple restaurants to provide customers with variety. While a low occupancy may see the buffets replaced with fixed menus to control costs and wastage, the hotels will be required to operate all restaurants which are part of any guest's package. While forecasting, revenue management, study of seasonality and intelligent package design can all be leveraged to tackle this risk, it is important to acknowledge it. Moreover, as mentioned above, should these resorts have a captive getaway audience, repeat customers are likely to notice and question any severe package modifications made on account of low occupancies. The comfort of price transparency goes hand in hand with the expectation of a consistent experience at an AI resort and this may limit the hotel's ability to aggressively modify the nature of inclusions.
The Cruise Version
Apart from hotels, cruise liners rely on the All-Inclusive model to maximise their probability for success. In terms of destinations, 'somewhere in the middle of the ocean' is as ideal as it gets for this model to succeed. Guests, for the most part, have no option but to stay and dine on their cruise and these companies create a variety of packages which are intended to represent a good deal. From a consumer point of view, these packages eradicate the ambiguity around how much they will spend on food and beverage whereas from the operators' perspective, they get to maximise the value per guest by charging upfront and enjoying further benefits from customers who only consume a fraction of what the package includes.
In contrast to land based All-Inclusive resorts, however, cruise operators have the freedom to leave out many activities and restaurants from their AI packages, thereby driving a la carte, on-site revenue. This is a freedom that most operators exploit thereby making land-based AI far more generous in terms of inclusions. The other contrast between the two is the relationship with the guests. Cruise experiences are expensive, and, for most tourists, a single cruise route is a one-time experience. Therefore, while a cruise operator may witness customer loyalty at a corporate level, individual cruises are unlikely to boast a large percentage of repeat clientele. In an AI resort, however, the team's goal is to optimise the delivery of memorable experiences and comfortable, hassle-free stays for each guest. Depending on the accessibility of an AI resort, such a hotel could rapidly develop loyalty amongst customers who might choose to make numerous visits on different occasions. The fact that these resorts do not rely on the destination as much as they do on the overall setting only augments their potential for repeat clientele as customers begin to view the resort as a destination itself.
Is India Ready?
The answer to this question is a resounding yes. Hotelivate anticipates that this segment will experience strong growth in the short to medium term. Hotel companies have already expressed their desire to introduce their AI brands into the geography. On the global stage, the intent has been clear in the last few years.
Figure 2: The AI lntent of the Largest Hotel Companies is Clear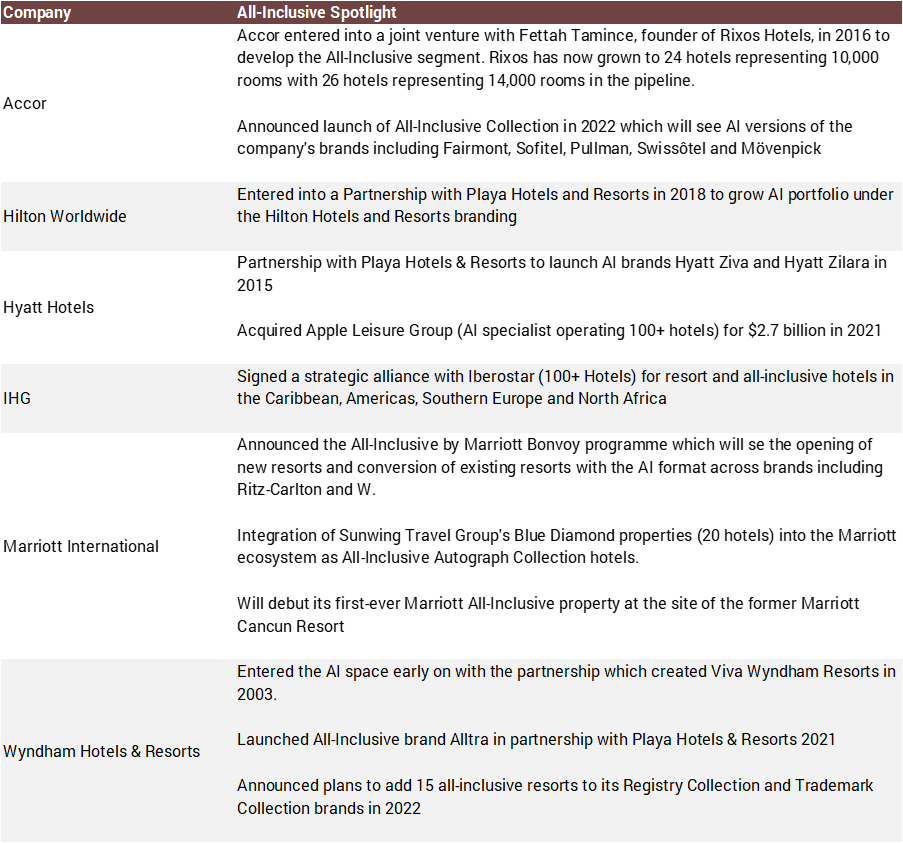 The following points are important for hotel owners and developers to consider when weighing the option of an AI hotel:
The price-sensitive nature of the Indian customer makes the option of knowing total expenditure upfront extremely attractive. Most Indians also prefer to travel in large groups which makes knowledge of total expense and inclusions very valuable at the planning stage.
The project should be located in a destination wherein the hotel is the focal point of the vacation. Off-beat beaches, secluded hilltops, tea estates, converted forts and havelis, getaway locations outside major cities and so forth, offer strong potential for the AI model. Destinations which offer a packed itinerary of sightseeing and variety in dining experiences are less likely to suit the AI model.
The project's land parcel should be large enough to allow for a spread-out programming. Since guests are expected to spend almost all their time at the hotel, distribution of facilities, activities and experiences is important to prevent crowding and other unpleasant situations.
India's rich culinary heritage can work to ensure variety and interesting dining experiences which is not typical of an AI resort. It is important to note that the key source markets of the destination will play a big role in defining the resort's one size fits all buffet as Indian tourists have numerous dietary restrictions on account of personal belief systems.
India's improving connectivity, especially via the road network, will continue to lead to the discovery of new, scenic destinations with little to offer other than relaxation. AI resorts could find great success in such locations.
India has a readily available captive audience for AI products. These hotels are likely to rapidly gain popularity while enjoying strong bottom-line performance. We look forward to closely studying the development of this segment and the introduction of a wide variety of AI brands into India in the coming years.