Top Hotel Deals – April & May 2021 – Issue 4
Several mid-sized deals across Australia, Europe, and the US saw closures in the months of April and May 2021. Buyer motivation included cheap, opportunistic buying as well as contrarian aggression to pick up hotel assets. Most hotel investments have seen infusion from local level capital but with the travel sector opening up and an overall improvement in sentiments, it is just a matter of time that cross-border investments also get back to business.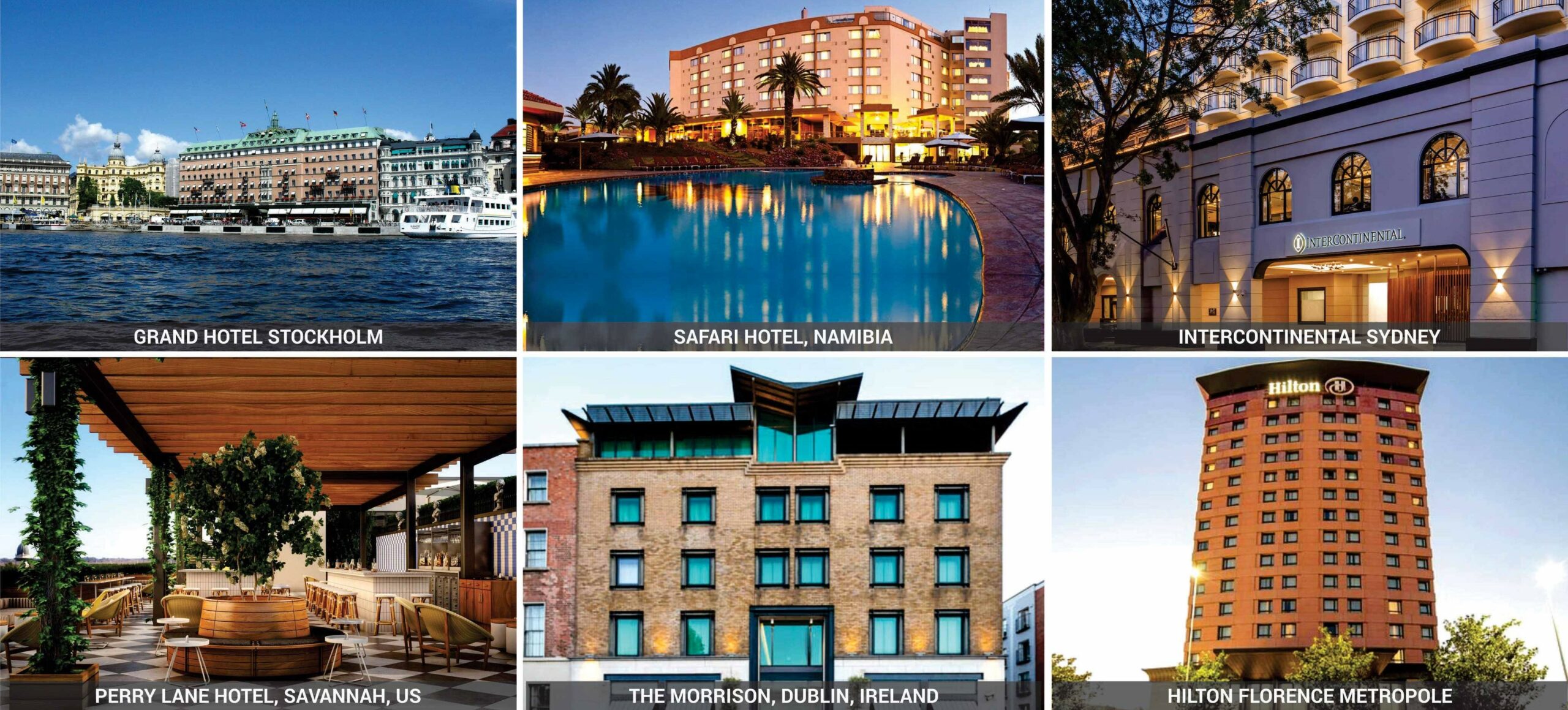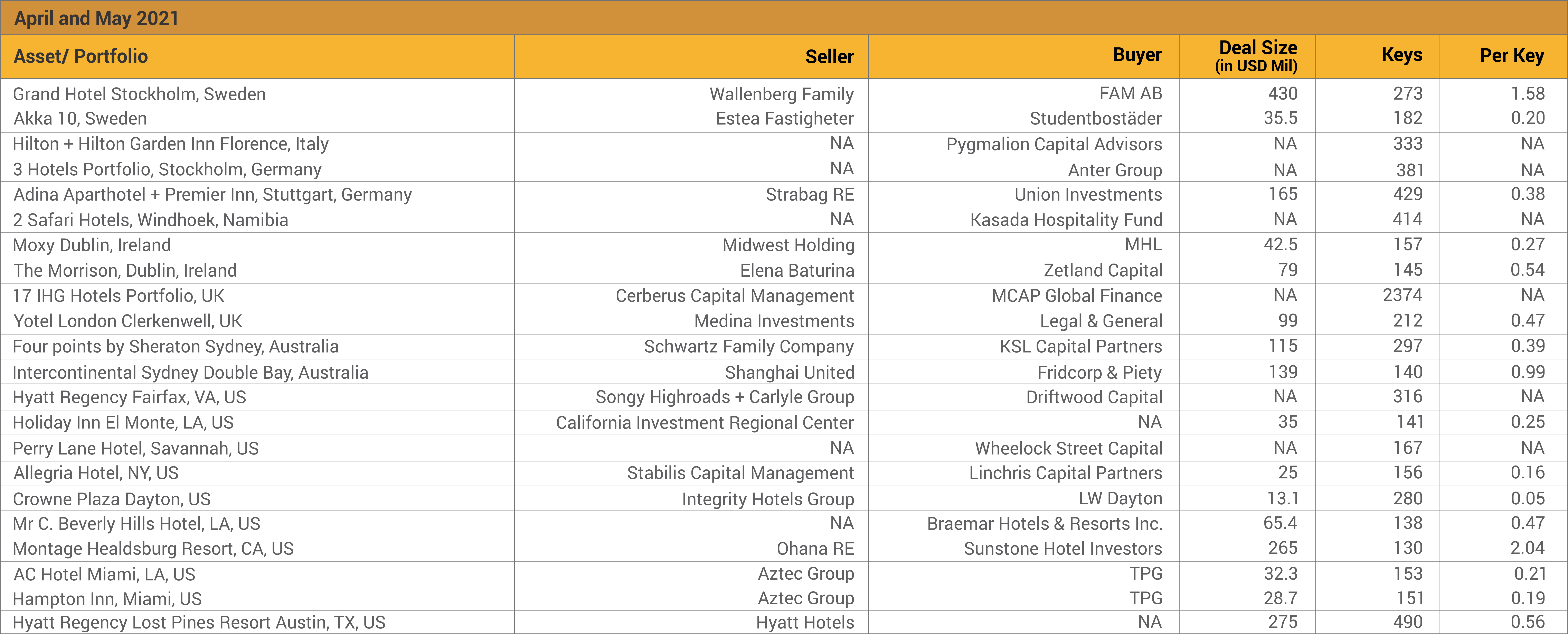 Key Highlights
17 Hotels portfolio across UK – MCAP Global Finance has bought 17 IHG branded hotels from Cerberus Capital Management for an undisclosed sum. The portfolio consists of hotels that are in regional markets across the UK including Leeds, Leicester, Reading, and Southampton. Many of the hotels have been refurbished in recent years with a total of 2,374 bedrooms across 15 Holiday Inns and two Crowne Plazas.
Sale of Grand Hotel Stockholm, Sweden – FAM AB has entered into an agreement to acquire The Grand Group comprising Grand Hôtel, Lydmar Hotel, and The Sparrow Hotel. Grand Hotel, Stockholm's most famous historic luxury hotel has been individually valued at USD430 million or USD1.58 million per key.
Sale of InterContinental Double Bay, Sydney – A Chinese private equity group has sold the hotel for USD 140 million to Melbourne-based developer Fridcorp, who has plans to restyle it as a Louis Vuitton branded hotel. At USD1 million per key, the sale sets a record for Double Bay's luxury hotel and commercial market. Since 2013, the hotel has been sold the third time over indicating the high-paced deal market of Sydney.
Sale of Montage Healdsburg Resort, California – Ohana Real Estate Investors the sale of the 130-room Montage Healdsburg to Sunstone Hotel Investors, Inc. for $265 million. Ohana will retain ownership of the residential parcels within the asset. These will be affiliated with the resort. Montage Healdsburg is a newly-built, 258-acre resort situated in the heart of California's wine country in Sonoma County, located just a short distance from downtown Healdsburg.
Sale of Hyatt Regency Lost Pines Resort and Spa near Austin, Texas – As part of its plan to liquidate some assets, Hyatt Hotels sold this 490 rooms hotel. The sale is also followed by a management agreement that allows Hyatt to retain its flag. The owner anticipates enhancing and expanding this unique resort destination located on 405 acres along the banks of the Colorado River.
Sale of 2 Safari Hotels, Namibia – In this transaction, 215- key Safari Court Hotel, 199-key Safari Hotel, and Safari Court Conference Centre are being acquired by Kasada Capital Management. Kasada will rebrand and asset manage the hotels and hopes to unlock larger value. The Safari Court Hotel will be converted to Mövenpick, and the Safari Hotel will become an ibis Styles. This is the second acquisition from Kasada after its 8-hotels deal in January 2021 making it the leading hospitality platform in Sub-Saharan Africa.
About Hotelivate Transactions Advisory – Specialists in BUY-SIDE and SELL-SIDE activities for hotel assets; as well as financing arrangements via debt and equity capital for hotel real estate. We work with institutional investors, private sellers, buyers, and lenders to jointly discover the 'value-buys' or 'smart-sells' for hotel buyers and sellers respectively.
Please write to [email protected] to discuss your commercial requirement.
Current Exclusive Sell-side Mandates:
400 rooms branded hotel in Mumbai
150 rooms branded upscale hotel in Ahmedabad
300 rooms branded luxury resort in Jaipur
70 rooms branded luxury resort in Rajasthan
90 rooms midscale resort project in Rajasthan
150 rooms branded resort in Goa
50 rooms branded resort in Goa
50 rooms branded resort in Kerala
50 rooms branded upper midscale hotel in Noida
Boutique luxury resort in Uttarakhand
Current Exclusive Buy-side Mandates:
Resorts in leisure locations – 100 rooms and above
Resorts in leisure locations – 60 rooms and above
Wellness oriented resort – hills of North India
Upscale hotel in Delhi NCR
Note: The source of these news items are major publications, websites, and corporate announcements. While attempts are made to cross verify each news through multiple sources; Hotelivate does not claim responsibility for the authenticity or accuracy of the external information assembled in this publication.