Top Hotel Deals – January 2021 – Issue 2
The first month of 2021 was marked with the sale of portfolio deals and asset-light platforms. Notable among them were Bourne Leisure Holdings, a multi-hotels deal across 3 countries in Africa, assets of Vienna House, the Red Lion franchise platform, and the Odyssey Hotel Group platform. Additionally, the transaction world witnessed the sale of trophy assets as well as asset-light management companies. Some of these deals have been in the making for over 12 months but the activity got intensified by the pressure exerted by adverse operating conditions.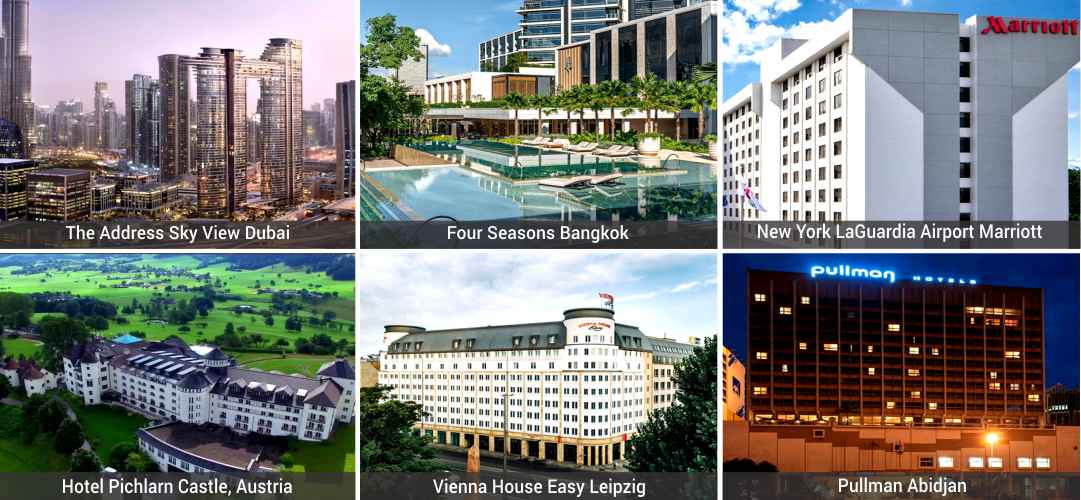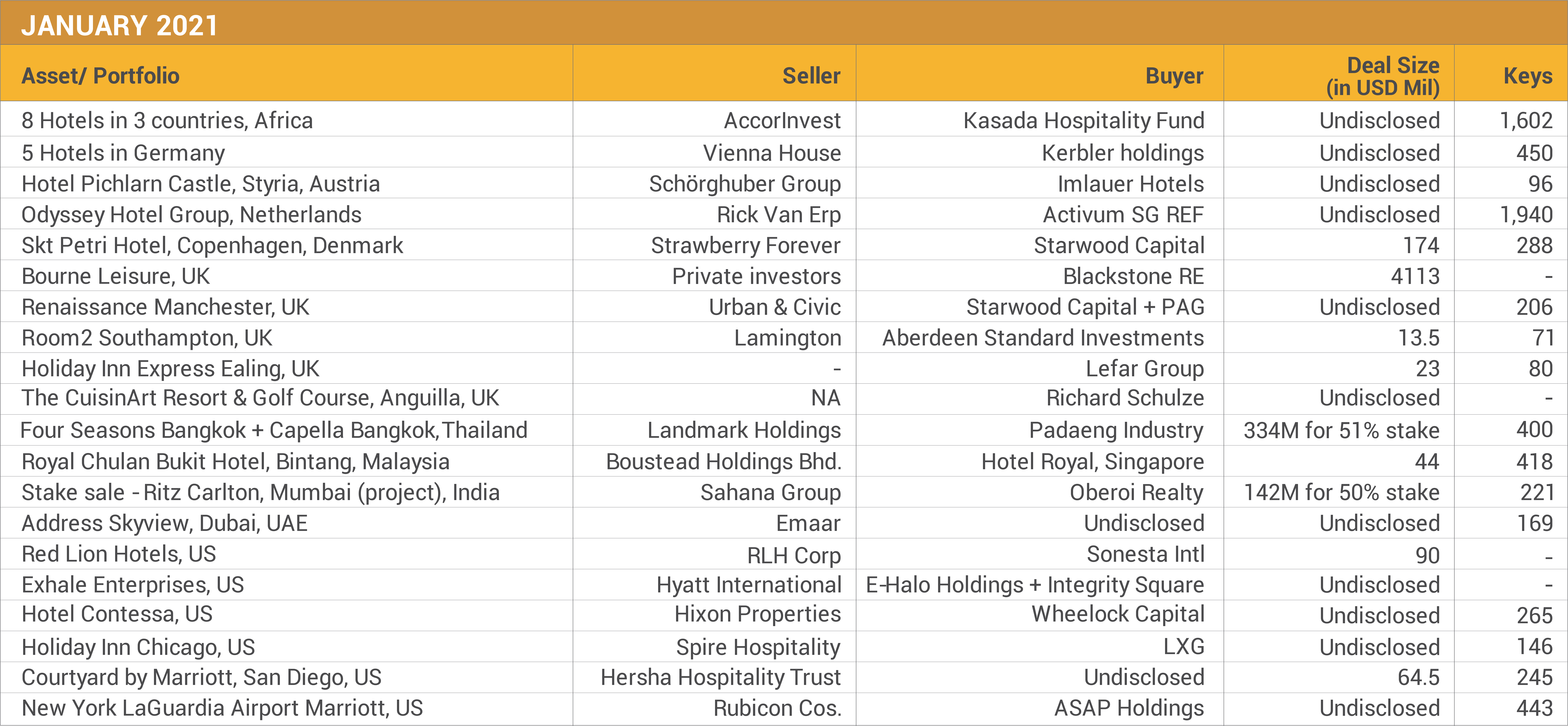 Key Highlights
Sale of Red Lion Portfolio – Sonesta International Hotels Corp. continues its blitzkrieg by announcing its intentions to acquire RLH's franchise platform controlling 900+ hotels across North America. The acquisition is expected to close in the first half of 2021 post which RLH will turn into a privately held company. The deal completes an exceptional year for Sonesta, which during 2020, added 103 ex-IHG properties and 122 ex-Marriott properties to its portfolio. Sonesta is well on its way to becoming one of the largest hotel companies in the U.S. with roughly 1,200 hotels upon deal closure.
Sale of Bourne Leisure Holdings Ltd – The company operates 38 caravan holiday parks (Haven Leisure), 3 Butlin's holiday resorts and 14 Warner Leisure adult hotels. At USD4.1B, this has given a grand opening to the 2021 deal flow. While travel trade businesses have been bleeding; this transaction underscores the long-term health of the leisure sector in the eyes of institutional investor community.
Sale of Odyssey Hotel Group – A special situations fund established by ActivumSG Capital Management, has acquired hotel operator Odyssey Hotel Group. Odyssey currently operates 1,940 rooms across 12 hotels in Germany, the Netherlands, and Finland, mostly under franchise agreements with Marriott and IHG. The deals also cover 20 hotels in the pipeline.
Sale of 8 hotels portfolio across Africa – In one of the largest cross-border hospitality transactions in Africa; Kasada Capital Management has acquired eight fully operational hotels across three countries – Ivory Coast, Senegal, and Cameroon – comprising 1,602 hotel rooms. The deal offers an exit to AccorInvest but Accor continues to stay invested as a joint venture partner with Katara Hospitality in Kasada Capital.
Stake Sale – Four Seasons Bangkok + Capella Bangkok, Thailand – PDI has acquired a 51% stake in Urban Resort Hotel and Waterfront Hotel, which are the holding companies for the recently developed Four Seasons and Capella Hotel, respectively, from Landmark Holdings, a subsidiary of Country Group Development. The deal values the development at USD334M and brings in the much-needed external capital into the badgered hospitality sector of Thailand.
Sale of Exhale Fitness & Spa  – Hyatt Intl. has completed the sale of its spa and fitness brand Exhale to E-HALO Holdings and Integrity Square. Exhale was acquired by Hyatt in 2017 and the companies will continue their membership and loyalty program alliances post-sale.
Sale of Ritz Carlton project, Mumbai  – Oberoi Realty, a publicly listed company that owns Westin Goregaon Mumbai, has acquired the balance of 50% from its joint venture partner in the mixed-use development project Three Sixty West valuing the development at USD284M. The project includes 221 rooms luxury hotel and serviced residences in the posh neighbourhood of Worli.
About Hotelivate Transactions Advisory – Specialists in BUY-SIDE and SELL-SIDE activities for hotel assets; as well as financing arrangements via debt and equity capital for hotel real estate. We work with institutional investors, private sellers, buyers, and lenders to jointly discover the 'value-buys' or 'smart-sells' for hotel buyers and sellers respectively.
Please write to [email protected] to discuss your commercial proposition.
Current Exclusive Sell-side Mandates:
300 rooms branded luxury resort in Goa
150 rooms branded resort in Goa
50 rooms branded resort in Goa
300 rooms branded upscale resort in Jaipur
70 rooms branded luxury resort in Rajasthan
50 rooms branded upper midscale hotel in Noida
Equity participation in a 100 rooms hotel in Chandigarh area
Current Exclusive Buy-side Mandates:
Resorts in leisure locations – 100 rooms and above
Resorts in leisure locations – 60 rooms and above
Wellness oriented resort – hills of North India
Note: The source of these news items are major publications, websites, and corporate announcements. While attempts are made to cross verify each news through multiple sources; Hotelivate does not claim responsibility for the authenticity or accuracy of the external information assembled in this publication.