Top Hotel Deals – December 2020 – Issue 1
COVID 19 continues to be an ongoing trial by fire for the hospitality sector globally. A tectonic change is underway in the world of hotels and resorts. We are witnessing major shifts in dimensions like hotel capital structures, stressed asset resolutions, risk management, operational efficiency, and ownership compositions. Arguably transaction space is the most sensitive seismograph to measure these changes. It also underlines the fact that despair and hope are two sides of the same coin and mostly display a harmonious co-existence.
Starting Jan 2021, Hotelivate Transactions Advisory will be bringing to its readers and clients this periodical newsletter to highlight key hotel deals across the world. We hope you would find this compilation pertinent. We start with December 2020 that witnessed hectic deal activity and included five portfolio deals. Additionally, the last month of 2020 was characterised by the sale of some iconic hotels in Europe and the US.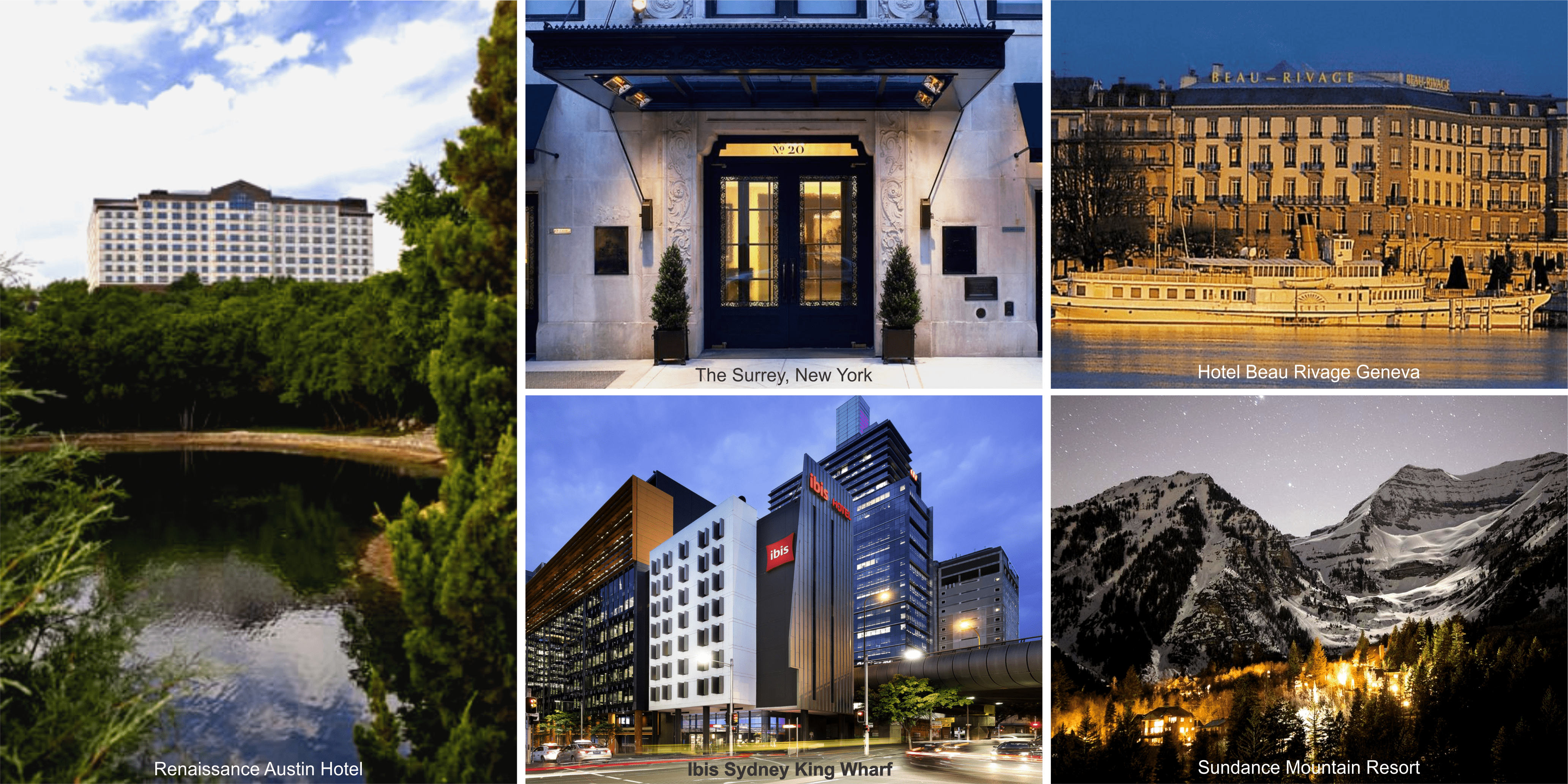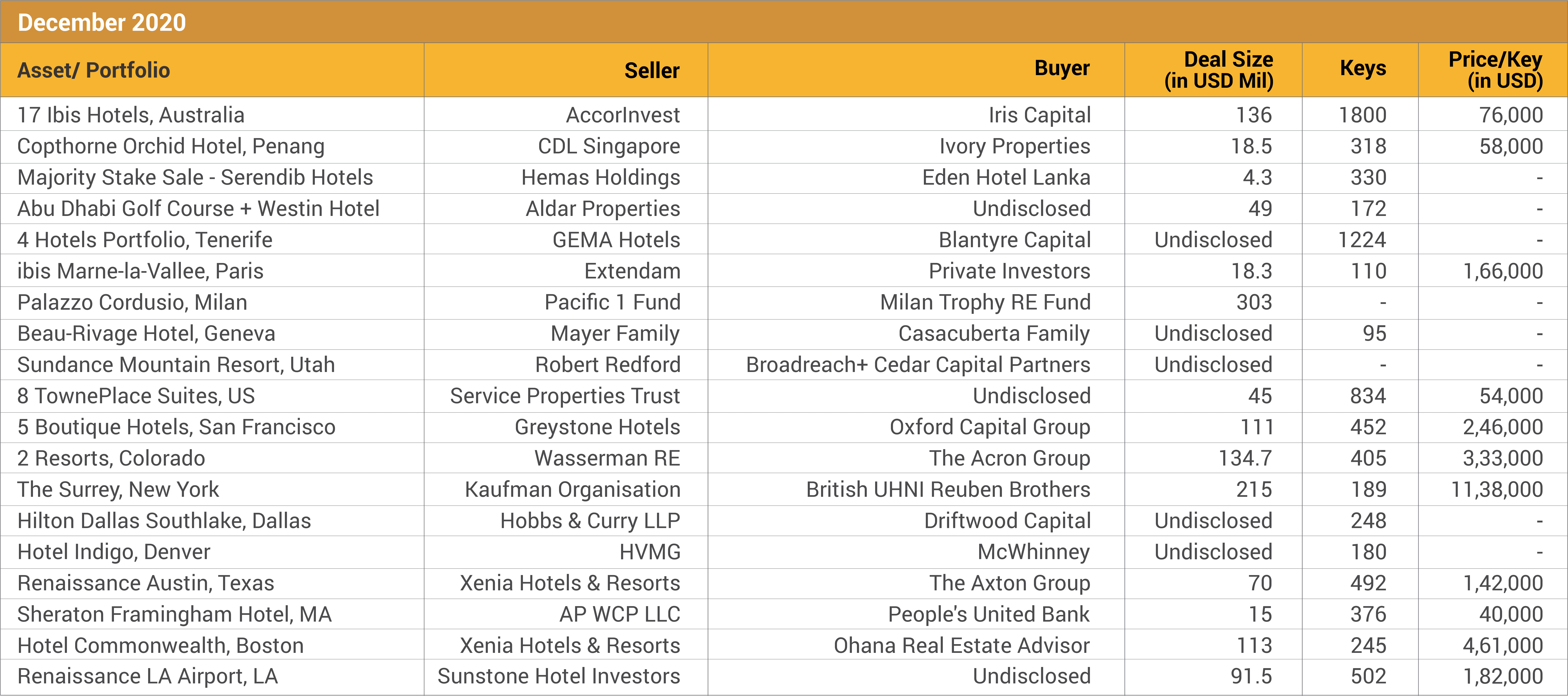 Key Highlights
Sale of 17 ibis Hotels Portfolio – Australian hotel market is known for being tightly held and this single deal allows a private buyer Iris Capital to scale up to 45 hotels in the country. This transaction also fits in well with Accor's plan to divest systematically. This is a replacement deal for the earlier failed attempt by iProsperity Group to acquire the portfolio.
Serendib Hotels stake sale – The deal allows Serendib Leisure to monetize around 56% of its shareholding and will trigger an open offer event. This transaction is an important 'curtain-raiser' event since the government is gearing up for large-scale disinvestment in its hotel projects like Hilton Colombo and Grand Hyatt Colombo.
Sale of Beau-Rivage, Geneva – The hotel ownership has been with the Mayer family for 155 years with five generations of involvement. The legendary icon of Geneva is popular for its exceptional lake views, 72 rooms, 23 suites, lakeside gardens, multiple restaurants, and bar.
Sale of Palazzo Cordusio, Milan – The redevelopment of this heritage building (earlier used as a Post Office) into a luxury hotel is a noteworthy transaction and acts as a template for city governments and investors the world over, to augment tourism infrastructure by such conversions.
Sale of The Surrey, New York – When luxury hotels are sold in Manhattan, people sit up and take notice. At USD1.1M per key, this is seen as a bargain deal that reaffirms the long-term positive outlook for hotels in key gateway locations. In 2015, Reuben Bros had also famously bought over the debt of India's Sahara Group in The Plaza, NY, Dream Hotel NY, and Grosvenor House, London for USD850M.
Sale of The Sheraton Framingham, Massachusetts – The existing lender has acquired the hotel & convention centre via an auction process. This is a distress deal where the buyer benefited from a 55% discount to the assessed value translating to a mouth-watering USD40,000/key price.
Sale of Copthorne Orchid Hotel, Malaysia – Among the few transactions in Asia last month, the deal resonated with the seller's plan to divest from non-core areas. Penang has been severely impacted by the pandemic and many hotels, including this one, had to cease operations. The new owners plan to undertake a full redevelopment program starting 2022 wherein a serviced apartment will be added to enhance the overall viability.
About Hotelivate Transactions Advisory – Specialists in BUY-SIDE and SELL-SIDE activities for hotel assets; as well as financing arrangements via debt and equity capital for hotel real estate. We work with institutional investors, private sellers, buyers, and lenders to jointly discover the 'value-buys' or 'smart-sells' for hotel buyers and sellers respectively.
Please write to [email protected] to discuss your commercial proposition.
Current Exclusive Sell-side Mandates:
150 rooms branded resort in Goa
50 rooms branded resort in Goa
70 rooms branded luxury resort in Rajasthan
90 rooms midscale resort project in Rajasthan
50 rooms branded upper midscale hotel in Noida
A boutique luxury resort in Uttarakhand
Equity participation in a 100 rooms hotel in the Chandigarh area
Current Exclusive Buy-side Mandates:
Resorts in leisure locations – 100 rooms and above
Resorts in leisure locations – 60 rooms and above
Wellness oriented resort – hills of North India
Note: The source of these news items are major publications, websites, and corporate announcements. While attempts are made to cross verify each news through multiple sources; Hotelivate does not claim responsibility for the authenticity or accuracy of the external information assembled in this publication.