The 2023 Indian Hospitality Trends & Opportunities Report
The Surfer's Paradise
Businesses across the globe generally operate with an intent to swim through their good years and employ strategies to at least float in the bad ones. However, every once in a while, when a wave large enough to surf in style comes their way, enterprises must relish the opportunity and make the most of it. For the Hospitality Sector in India, 2022/23 was the 70-foot monster wave that is every surfer's dream.
It takes a seasoned wave-watcher to notice the distant curls developing, the brute power of the ocean taking shape beneath the surface. To ride such a wave, you first must be on it; standing steady just as it begins to rise and declare its might. 2021/22 – the recovery year post-COVID-19 –presented our sector with the opportunity to brace itself, recalibrate its meters and point steadily in the direction of growth. As 2022/23 began to unfurl, almost the entire set of hotels, resorts and lodging facilities across India's branded universe were able to make the most of this spectacular opportunity. We all rode the surfer's high!
By the time 2021/22 had wrapped up, the steady recovery of nationwide occupancy from 34.5% (in 2020/21, during the peak of the global pandemic) to 49.9% had already offered both solace and promise to the industry. The ADR, though, had barely recovered, crawling from INR 4,630 to INR 4,951, a mere 7% improvement despite a 25% plus fall in the preceding year. Subsequently, the Indian Hospitality sector had seen a 55% improvement in RevPAR when compared to 2020/21 (which was the worst year in terms of RevPAR over the past 25 years). The prevailing sentiment was one of being "halfway there." Consequently, many budgets prepared for 2022/23 were geared toward regaining the remaining lost ground and aiming to conclude the fiscal year with figures approaching pre-pandemic levels.
In 2022/23, the branded and organised hotel sector in India closed with a nationwide occupancy of 66.1% (the second highest in a decade & short by just 0.1%), with an ADR of INR 6,869 (the highest in 10 years) and a consequent RevPAR of INR 4,537 (again, the highest in a decade). When compared to 2021/22, this represented a 34% growth in occupancy, a 39% increase in ADR and an 82% jump in RevPAR. There is no question – this year was one for the record books.
A varied set of factors contributed to this stellar performance. It's not news that Indian travellers have been discovering India in large numbers. The trend of "revenge travel" has, in fact, established a lasting and sustainable demand foundation for the hospitality sector. Domestic tourism was a key contributor to both the occupancy and ADRs achieved last fiscal. About 7.5% of the total existing supply (of ~ 1,40,000 rooms) achieved an average room rate of more than INR 10,000 in 2018/19. Last year, over 12.4% of the supply was priced over INR 10,000, with an existing base of ~ 1,65,000 rooms. Looked at as absolutes, about 10,000 rooms managed this feat in 2018/19 and over 20,000 rooms did so in 2022/23. While the majority of the nation's inventory still sits below the US$100 threshold, the fact is that there was notable average rate appreciation across all star categories, when compared to 2018/19.
Business travel bounced back too, albeit the inbound corporate movements remained relatively subdued. Domestic commercial room night demand more than made up for it, though. A key factor contributing to business travel across the wider landscape of India has been the growth and proliferation of the manufacturing and allied industries. We hold the view that these industries will only further enhance their need for hotel rooms across the Tier 2 and Tier 3 markets across India in the years ahead. It would also be amiss to not mention the role that sporting events have played in the creation of room night demand across various markets. Hotels across a slew of markets benefitted by hosting the Men's IPL, Women's IPL, Pro Kabaddi League, U-17 Women's FIFA, Hockey League, and so forth last year. As more such events become an annual affair, a whole new segment of demand has taken shape. Finally, the resurgence of both corporate M.I.C.E as well as  Big Fat Indian Weddings added a significant quantum of revenue to not just the rooms business but also the food and beverage division of hotels across several major destinations.
Overall, while the reasons described above may have been key contributors to demand growth in the last fiscal and some of them may or may not recur, the broader point is that India is at a point where our markets shall continue to have other similar demand drivers in the years ahead. The behaviour of a maturing economy with a varied set of catalysts that induce demand is a very promising sign.
When markets can go about business all guns blazing, the benefits are reaped aplenty. 2022/23 was a year that most hotel owners and operators closed on a high note. The good news is that the party isn't over just yet. That being said, should we employ some degree of caution in our outlook for the years to come, lest we get carried away in the euphoria that was 2022/23? Do read on…
The Goldilocks Zone
In Astronomy, The Goldilocks Zone describes the conditions for a celestial body to be 'perfectly placed' in the Universe such that it can enable life. An extremely rare and infrequent phenomenon, such an occurrence is almost utopian. The Earth, as we know, inhabits the Goldilocks Zone. Similarly, a Goldilocks Economy describes a stable, sustainable, and ideal state of economic equilibrium. It is witnessed when most economic parameters are pointed towards an environment that is likely to be 'just right'.  While growth economies are desirable of course, the long-term quest is to achieve this state of stable, albeit measured growth.
The hospitality business, as we all know, is cyclical. Ups and downs are therefore par for the course. It is not as much the goal to eliminate cyclicity, as it is to minimize its impact. The standard deviation of crests and troughs being reduced is thus the eventual goal for any market. With a sterling year's performance under its belt, it is perhaps natural for the industry to expect this may continue. The recently concluded G20 summit had a strong and meaningful impact on revenue for hotels not just in Delhi NCR, but across several cities in India. Conversely, with national elections scheduled for Q1 2024/25, there may be a softening of travel and consequent room-night demand for a couple of months that build up to the actual event. It also brings the possibility of the IPL moving out of the country. The hotels might lose the IPL business which has become a reliable demand generator during April and May. Moreover, if the elections get scheduled earlier than the planned April-May period, that could eat into the peak winter months. These factors do create a certain level of uncertainty coming in towards the end of 2023/24 and the beginning of 2024/25. Overall, while most metrics do indeed point towards a strong 2023/24 and very possibly an equally promising subsequent couple of years ahead, there are two important factors to keep in mind.
The pandemic had caused various locally negotiated as well as corporate-RFP contracts to be nullified. Those contracts haven't been renewed or renegotiated in many instances; corporate room nights have thus been paying retail rates. This contributed to an increase in ADR across several commercial hotel markets. We do believe that some correction in these ADRs may be witnessed in this current fiscal year, as negotiated rates find their way back into the hotel demand mix. Conversely, the growth of leisure and discretionary travel is very likely to continue. This will support a business case for further enhancement of ADRs. Overall, while average room rates on a nationwide blended basis may therefore continue to improve, it would be fair to expect this growth to be more linear and paced.
With a base of ~ 1,65,000 branded and organised rooms operating in India, another ~ 70,000 new rooms were signed and planned as of 31st March 2023. Of these, about 79% are actively under development and are likely to open for business over the next 60 months. That amounts to a 33% increase in supply on the existing base over the next 4-5 years. Two pertinent facts are relevant here. First, given the various positive and promising demand drivers across India, it is likely that this supply will get absorbed with minimal occupancy volatility. Second, a large part of this pipeline is being developed in smaller towns and cities across the country. This too will mitigate supply impact.
 It is a fair assumption that while we may not see huge jumps in year-on-year occupancy and ADR as we did in 2022/23, we will likely see a steady absorption of supply, coupled with sustained growth in demand. In our view, the Indian Hotel sector is heading towards 'The Goldilocks Zone'.
In 2023/24, the nationwide occupancy is expected to range between 68-70% with the nationwide rates likely crossing INR 7,500. With slight supply pressure, during 2024/25 the occupancy will decline slightly while the average rates remain relatively stable.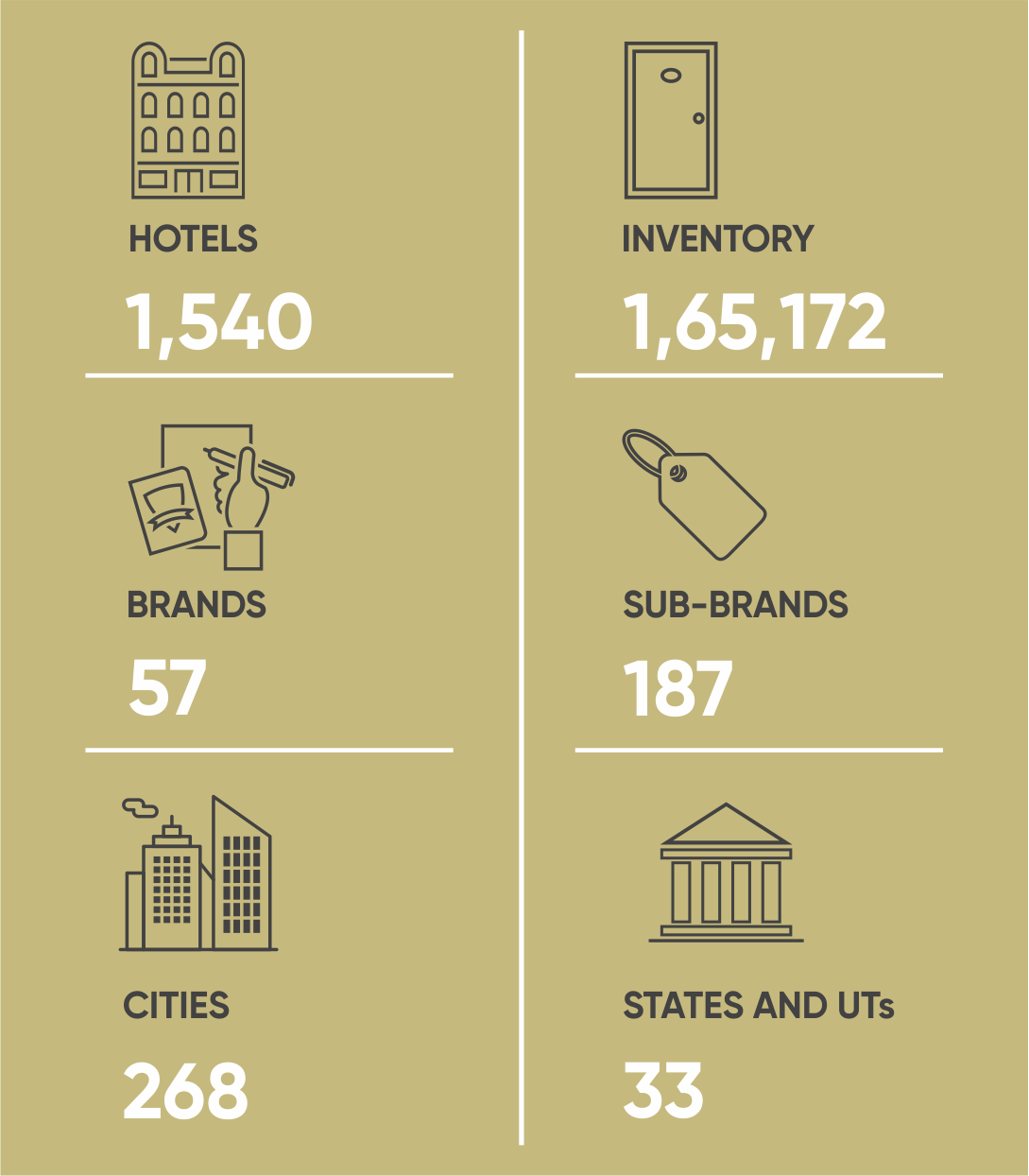 Hotelivate, a comprehensive hospitality consulting firm offering specialised service to clients across Asia Pacific and the Middle East, is proud to present the 2023 Indian Hospitality Trends & Opportunities report. The 26th edition of the report has a participation base of 1,540 hotels representing a total inventory of 1,65,172 rooms. This sample set offers a comprehensive coverage of India's branded hospitality landscape enabling better and more incisive analyses of nationwide trends, performance of major hotel markets, and demand and supply forecasts than any other survey of a similar nature.
The results of our survey and analyses have been presented at an All-India level, by star category, by administrative zones, by city tiers and a focus on the 20 major hotel markets, indicating the best and the worst performers and identifying reasons for the same. Furthermore, a detailed review of the existing and future supply has been conducted at the macro and micro levels to facilitate a better understanding of the growth in the number of branded rooms in the country across positioning. We have also offered additional perspective and insights within various sub-sections of this report for those seeking a deeper analysis of the demand-supply dynamics as well as future trends and opportunities in a rapidly evolving marketplace. 
Preceding the results of the survey, we have provided a brief review of the Indian economy and an overview of the tourism sector. In particular, we have focused on details that have a direct bearing on the health of the Indian Hotel Industry.