How Is India Faring Compared To The Rest Of The World?
As we write this article, COVID-19 has spread to almost every country on the planet, with over 2.9 million cases reported and over 207,000 deaths as on the 27th of April 2020. The map below shows the extent of the pandemic and really drives home the magnitude of the crisis affecting all of us today.
As countries around the globe struggled to deal with the pandemic and took urgent steps to control its spread, one key decision taken by many was to put travel restrictions in place that immediately impacted the travel and tourism industry. The following map from STR, while slightly dated shows the impact of these restrictions on hotel occupancy levels in markets across the world. The current data picture would almost certainly be grimmer.
Figure 1: Global Extent of the COVID-19 Pandemic by Geography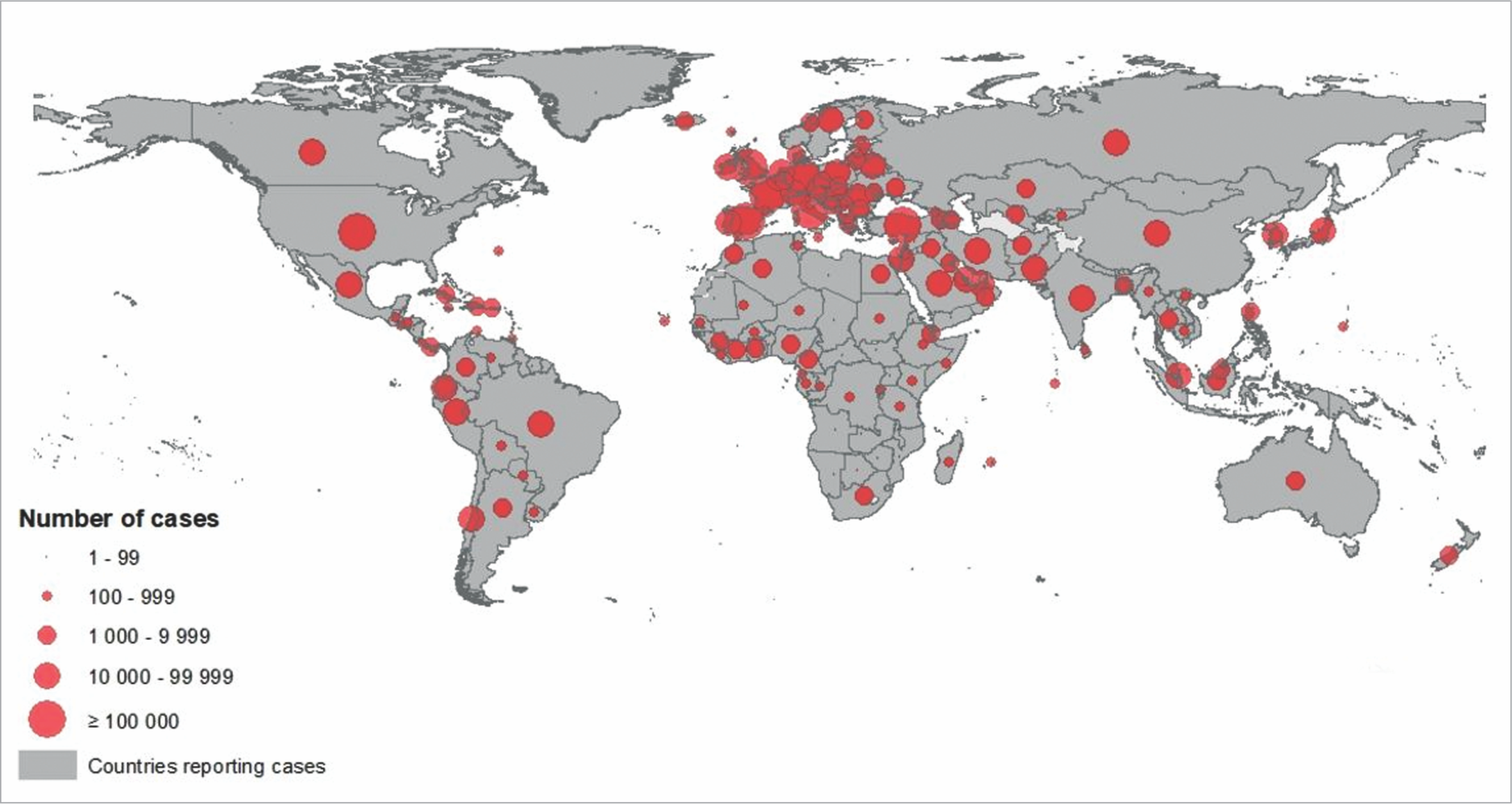 The following graph shows how rapidly the pandemic spread over the last few weeks.
Figure 2: Total Coronavirus Cases over Time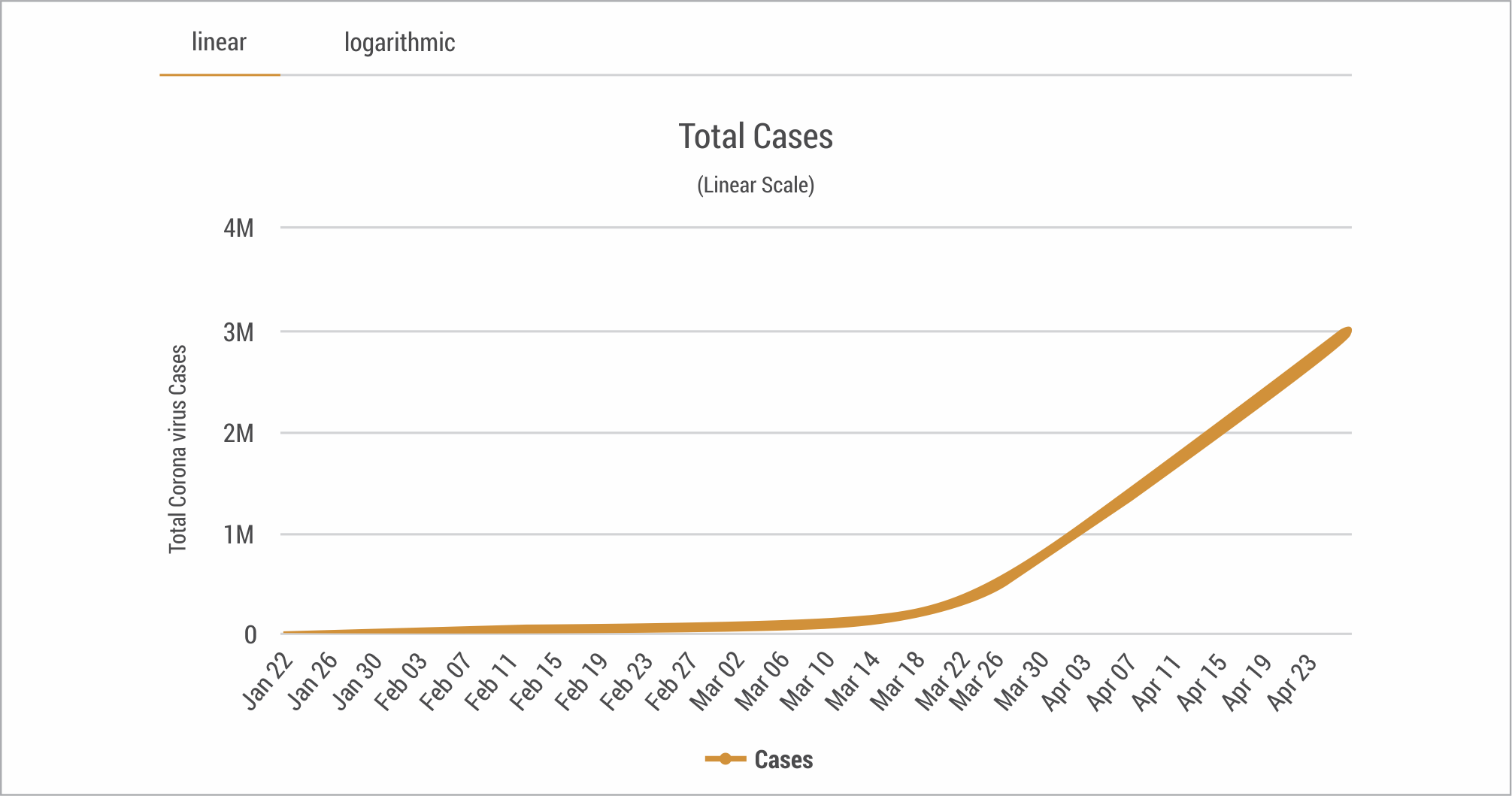 While each market has its own specific characteristics that influence demand, supply, and pricing, it is certainly helpful to understand how hotels have been impacted by and reacted to the crisis in countries that were first affected by the pandemic, so we can learn from them and incorporate those learnings in our plans to survive the crisis.
Figure 3: Weekly COVID-19 Global Impact | 29 March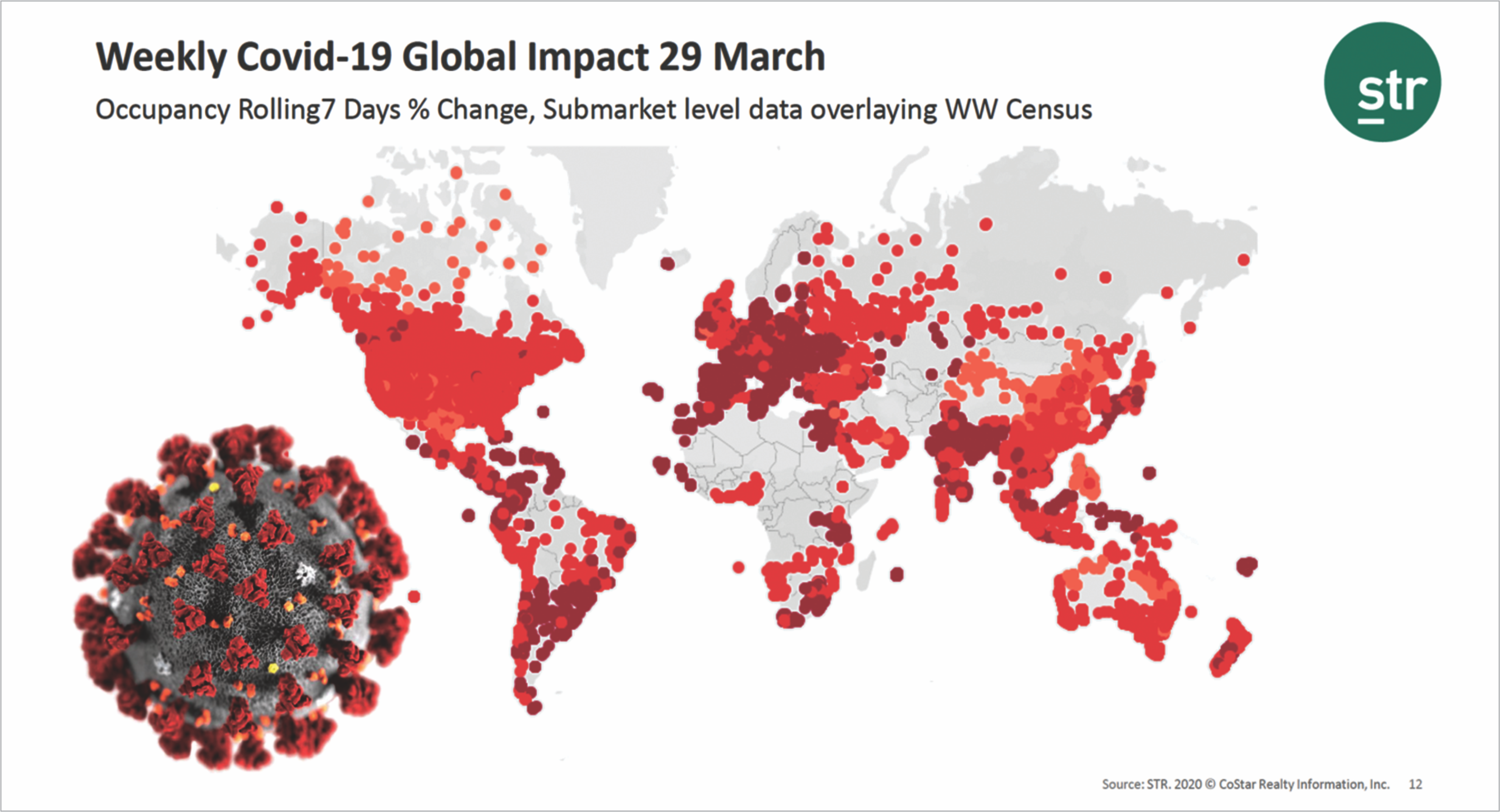 The following are some of the trends being observed in the hospitality industry at the current time:
With almost all countries experiencing some sort of mandated travel restrictions, those fighting the pandemic are generally exhibiting similar levels of depressed occupancy and RevPARs.
Research from STR indicates that RevPAR for the first quarter of 2020 has declined 75-95% in most markets as compared to the same period in 2019.
Economy, midscale and extended-stay hotels have witnessed a relatively lower drop in RevPARs while luxury properties saw RevPARs decline the most.
Hotels located just outside the downtown core of large cities and those in close proximity to hospitals have achieved higher occupancy levels than hotels in downtown or highway locations.
Hotels and resorts in fly-to destinations such as Hawaii, Maldives or Bali have seen the greatest impact on performance, with occupancy levels hovering in the single digits. Given the uncertainties around air travel and the discretionary nature of leisure demand, we expect fly-to destinations will be slower to recover than drive-to destinations.
Markets and countries that have a significant base of domestic demand such as China, India, and Indonesia will start recovering first. For the same reason, we suspect demand within the EU will return more slowly as the pandemic plays out on a different scale and timeline in each country and each one takes its own decisions on reopening borders to others.
On the supply side, we are increasingly seeing hotel projects that are in the initial planning stages being delayed or shelved at this time. We believe a number of them will not be revived given the uncertainties around the pandemic and stress in the capital markets in many countries. Projects that are already under construction will see slower execution due to unavailability of construction labour and the developer's desire to conserve cash in these uncertain times. Such a decline in new supply will help existing hotels recover faster once demand returns. We do see challenges in the US though, which is recording the largest supply pipeline in the last two decades, according to STR.
The following table shows forecasts for year-end 2020 occupancy, average rate, and RevPAR for the key global regions, per STR and Tourism Economics.
Figure 4: 2020 Forecasts | Occupancy, ADR and RevPAR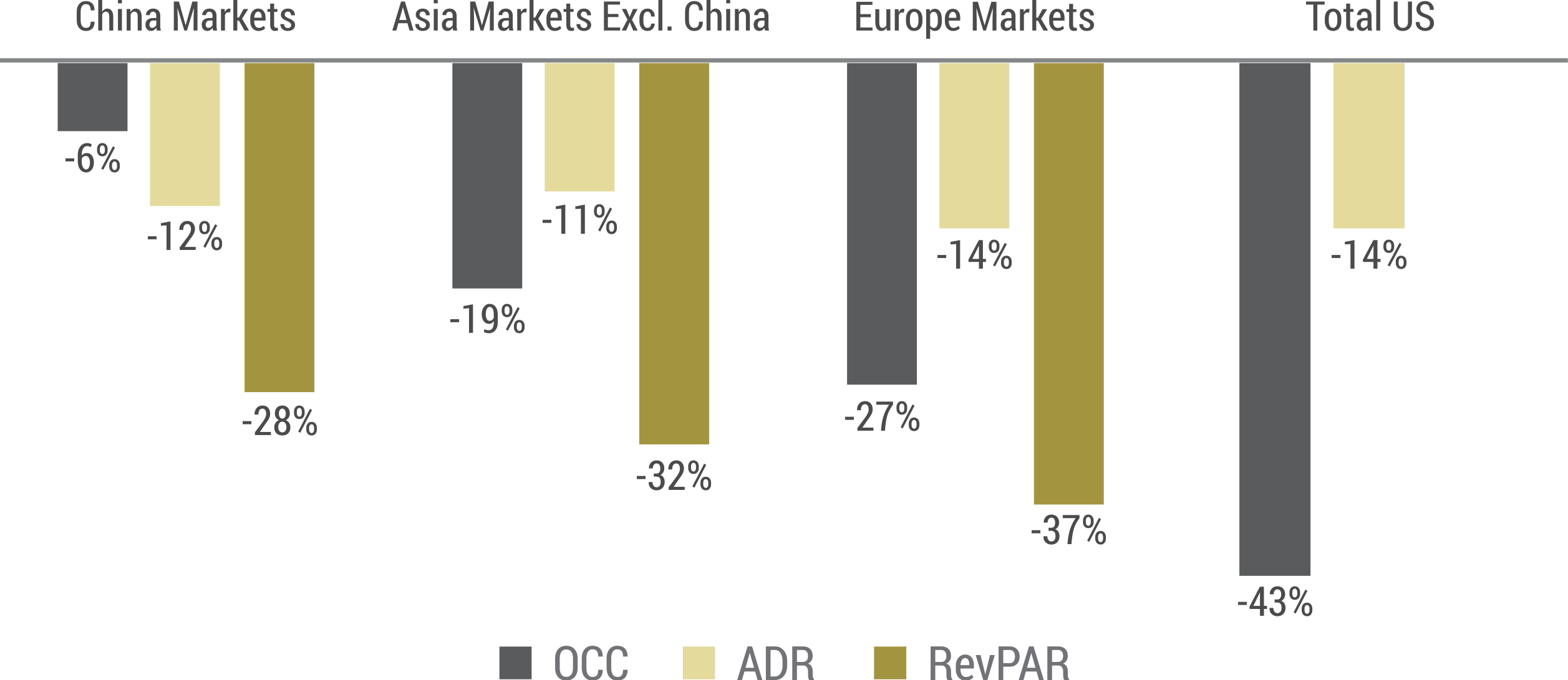 The China Situation
In these extraordinarily difficult times for the industry, surprisingly, there is some good news coming from China, which was the first to be severely impacted by
COVID-19. With China having potentially flattened the curve of the virus spread, several markets across the country are reporting strong percentages of increases in demand in the last 3-4 weeks, especially in the smaller cities, with occupancy levels increasing from the 10-20% range to as much as 40-50%.
If demand continues to grow in a sustained manner, the recovery would turn out to be much faster and much stronger than what has been expected and is a sign of resilience and hope for the hotel industry everywhere. We expect the growing demand to benefit domestic markets first, and as international travel restrictions ease, popular destinations within the region such as Thailand, Singapore, and Japan should benefit next as Chinese tourists start traveling internationally again.
The India Situation
While the Indian government officially announced a nationwide lockdown on March 24th, demand had already started to decline in the preceding weeks and hotels began witnessing large numbers of cancellations, especially with big group events. The travel restrictions that came into place from the 24th effectively brought the hospitality industry to a standstill, with most hotels in India operating at sub-20% occupancy levels since then. While many hotels have closed, some still remain open, operating with skeletal staff and limited inventory, catering to local demand that mainly comes from medical personnel or quarantined passengers. Hotel owners and operators will continue to perform cost-benefit analyses to decide when it might be better to close their enterprises and we believe we will see more hotels closing as the crisis continues.
With the lockdown restrictions being partially eased from April 20th mainly to enable manufacturing and agriculture to start back again and the second lockdown period expected to end in the first week of May, we expect demand will start to recover in smaller markets and manufacturing towns first. Similar to other markets globally, economy and mid-scale hotels should recover first, followed by higher priced hotels. We expect leisure demand to return to resorts located within driving distance of major urban centers first before fly-to destinations.
When the world has faced other crises in the past that impacted the travel and hospitality industry, the recovery of individual markets was primarily driven by a resurgence in domestic travel and demand. We are fortunate that over 80% of our demand is generated by domestic travellers and we should therefore be able to start on the path of recovery faster as a result.