Talent Management, Engagement and Compensation
Today, as the world has come to a standstill, everything has changed.
The only thing, however, that hasn't altered is the need to create an environment that offers hope, trust and transparency. It has become even more pertinent for us to have open discussions with our employees regarding the business realities, share any upcoming plans and encourage collaborative partnership.
To embrace this new reality, it is imperative for organisations and leaders to adapt and change their leadership styles to suit the need of the hour.  We foresee organisations going through two critical phases:
Phase I, which will focus on building a survival strategy, for ensuring regular and sufficient cash flows. This phase is likely to witness a Cross-functional Task-Force Team coming together to create just-in-time strategies and provide rapid response to cater to the needs of the market. This phase is also likely to witness the partial dissolvement of standard operating procedures for most functions. We believe most organisations are currently managing this phase.
Phase II, which will emphasise on building for the future. The industry will have to learn to nurture long term bonds with its affiliates. Common nomenclatures such as market leader, shareholder value and profits will need to change to "Market for all and Survival for all". This phase will transform the role of a CEO or a Senior leader to be more like that of a Chief Relationship Manager, whose primary responsibility will be to analyse and foster collaborative relationships with external and internal stake holders.
It may be worthwhile to mention that traditional structures of hierarchy will be eliminated, and a new way of life will govern us in the form of clear communication and a flexible approach to work. In the current context, we also think it imperative for companies to take a more cautious approach for business continuity. With this in mind, we would like to draw your attention to the findings of the 2019 India Hotel Manpower Study©, which had surveyed 204 hotels over 68 Indian cities across several domestic and international hotel chains.
Our research indicated that the Room-to-Manpower ratio increases directly with hotel market positioning. As is evident from the findings, Luxury hotels, which are synonymous with offering a personalised experience and delivering signature products and services, have the highest Room-to-Manpower ratio (1:2.27), while Budget/Economy hotels record the least number of employees per available room (0.82). Figure 1 represents the Room-to-Manpower ratio per available room across all hotel market positioning.
Figure 1: Employees Per Available Room (Jan-Dec 2018): Hotel Market Positioning

Source: Hotelivate Research
Our survey findings also indicate that, over the years, there has been a significant shift in the Room-to-Manpower ratios being maintained by hotels across various market positionings. Figure 2 provides manpower ratios (at an All-India level) across the Rooms and F&B Divisions, and for the hotel as a whole across all departments, for 2011/12 and 2018/19.
Figure 2: Employees per Available Room across Rooms, F&B and for All India: (2011/12 and 2018/19)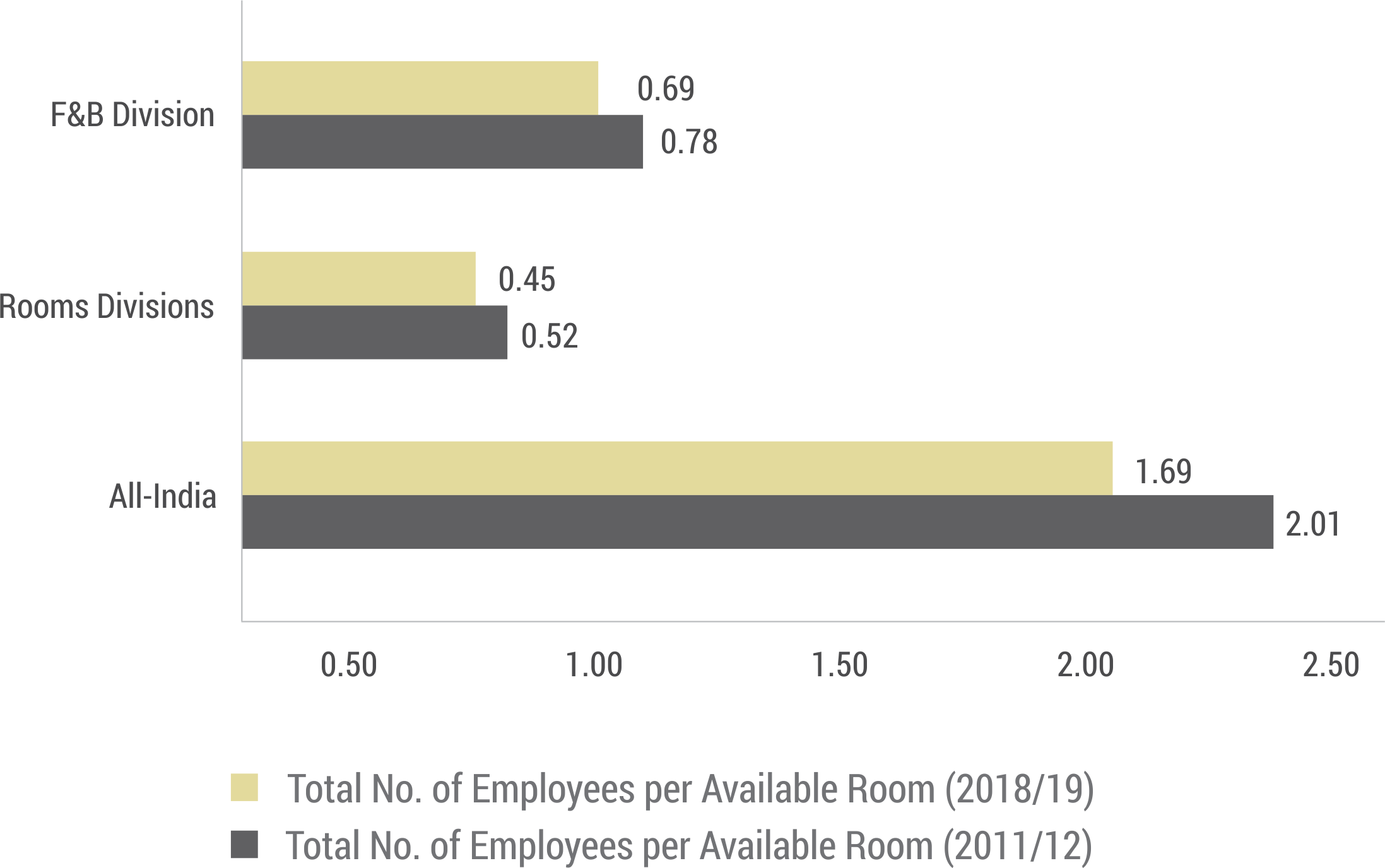 Source: Industry Sources and Hotelivate Research
The evident shift can be attributed to continued focus by hotels on effective manpower planning, higher emphasis on having a multi-skilled taskforce, and also becoming more efficient with the use of technology.
Now, given the need of the hour wherein each business will prioritise cash flow management, cost control and a focus on business continuity, there are bound to be measures put in place to force-fit a new edifice to Room-to-Manpower ratios.
This edifice is likely to become the new normal in the field of Human Resource management. In a scenario where we do not experience a resurgence of Covid-19, we believe the industry will see business from June onwards, at the earliest. We forecast occupancy rates at 35-40% in the first few months, rising to 50-60% towards the end of the year, which typically coincides with India's peak travel season. Therefore, it is time to redefine our hotel market positionings keeping manpower optimization in mind.
For the purpose of illustrating an alternative method of manpower utilization, we propose to combine the existing five-categories of hotel market positionings into two segments: a) Luxury to include all hotels classified as Luxury and Upper Upscale and b) Non-Luxury to include all hotels classified as Upscale, Upper Midmarket/Midmarket, Budget/Economy. 
In India, Luxury hotel rooms (corresponding to hotels in mainly leisure locations and Palace hotels), are priced at US$250 and above and represent a small share of the total hotel market.  Upper Upscale hotels are similar in that they are large-scale format hotels with reasonable guest offerings, and are priced at US$100-150 per room night. Given the nature and size of business in both these categories, and their focus on guest comfort and indulgence, the Luxury segment (which also includes Upper Upscale hotels for the purpose of this study), requires more manpower than the Non-Luxury segment. Understandably, Luxury and Upper Upscale hotels may not be well placed to introduce drastic measures in manpower utilisation; however, it is well within their boundaries to review and rework the structure in order to make it sustainable in the given circumstances.
Given below is Hotelivate's proposal of the New Normal for Room-to-Manpower Ratio. For the Luxury segment, we propose a Room-to-Manpower Ratio per available room including Labour and Job Contracts of 1:1.64, whereas for the Non-Luxury segment the proposed ratio is 1:0.76.
These ratios are highlighted in Figure 3, below. Figure 4 provides a graphical representation of the same.
Figure 3: Proposed Manpower Ratios Per Available Room Across Luxury and Non-Luxury (2020/21)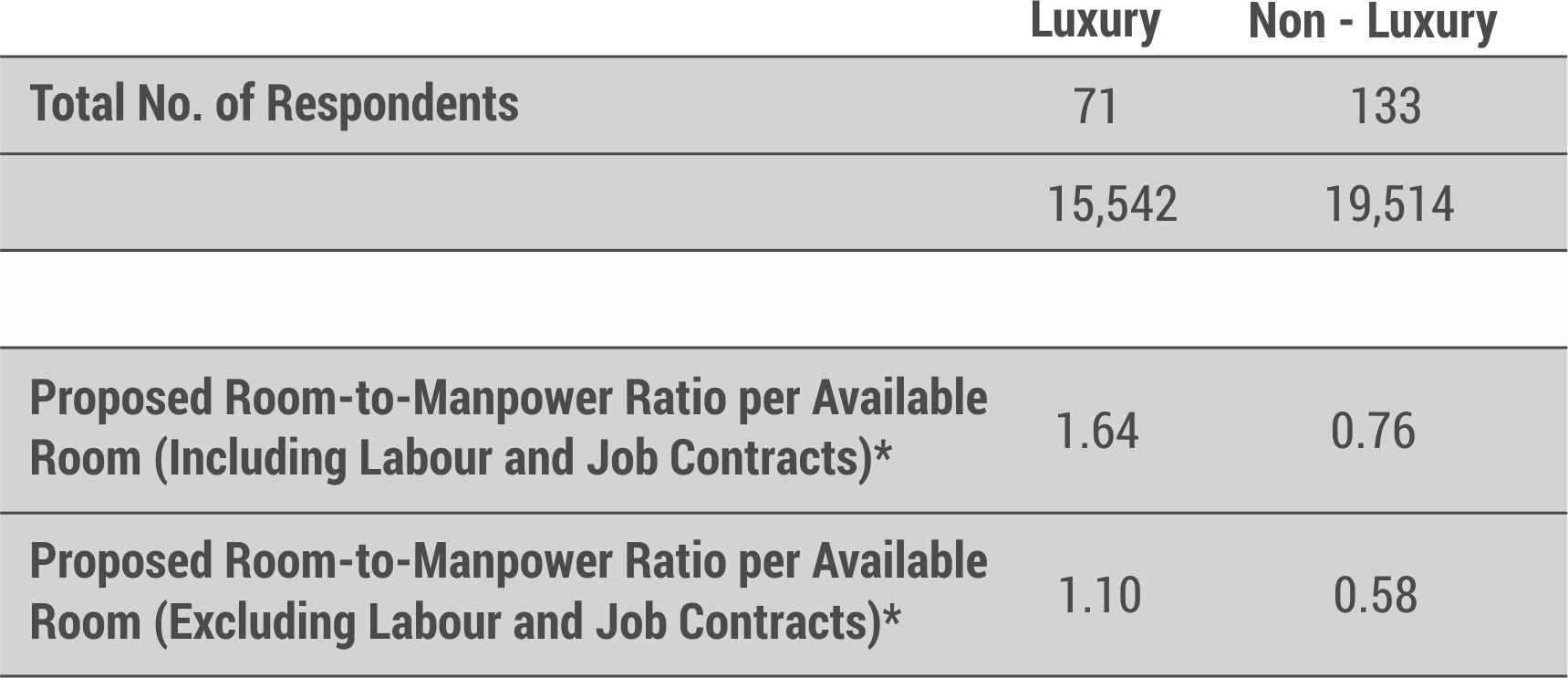 Source: Hotelivate Research and Estimates
Figure 4: Proposed Manpower Ratios per Available Room (2020/21)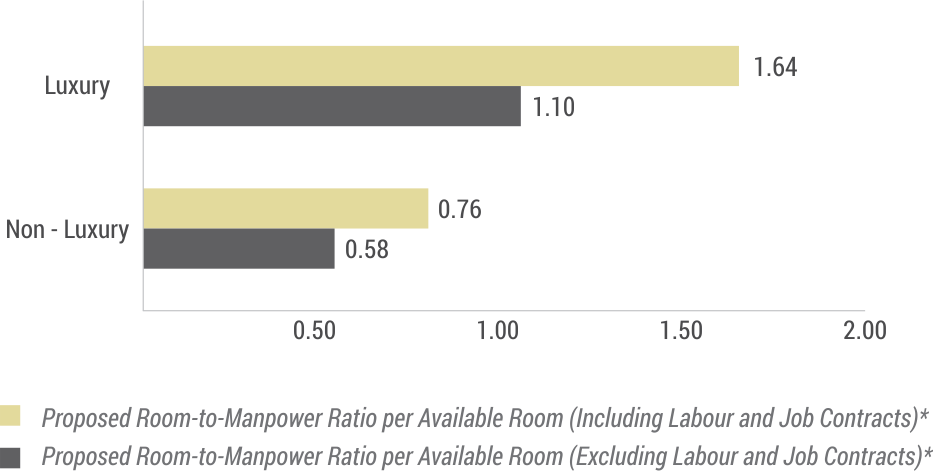 *These estimates have been derived based on the survey findings of 2019 India Hotel Manpower Study©
In order to achieve the above proposed Room-to-Manpower Ratios, Hotelivate has the following recommendations:
Rotation of Employees – Safeguarding the interest of employees will continue to be at the epicentre. An effective measure which can be put in place is the fortnightly rotation of employees for coming into work. In an ideal world, this may not be the norm. However extraordinary times need extraordinary measures to be put in place. A step in this direction will not only protect the employment of the individual, but also assist in better management of payroll costs.
Introduction of Department Head roles at the Cluster level – With the drastic change in the economic environment, it will become imperative for hotel companies to respond faster in the face of financial pressure and skewed business dynamics. A key initiative in this direction will be towards offering a greater flexibility in workforce management, thus leading to the introduction of Cluster Department Head (CDH) roles. We foresee department head positions at the property level, being replaced by Cluster roles. Hotel Companies need to look at introducing CDH roles across key departments like Food & Beverage, Front Office, Housekeeping and Engineering. While this transition will ensure effective manpower utilization, it will also help in lowering the payroll cost at the property level.
Fading away of roles, especially at the function head level – With the introduction of CDH roles, positions at the function head level will see a gradual fade away. Tenured employees with 15+ years of experience serving in the same position for more than 5 years are likely to be impacted the most. Additionally, to maintain social distancing, many age-old traditions, like the popular 'Aarti-Tikka-Garland' at the time of guest check-in to create that additional warmth and welcome, may bite the dust. Having a multi-skilled staff with the ability to multi-task will gain utmost importance.
Rationalisation of Compensation – The ongoing pandemic has deepened the need to immediately address cashflow and working capital related problems. It has now become even more critical to manage these aspects, and to come up with measures that support long term sustenance. Once the hospitality industry crawls its way back to normalcy, we anticipate that pay cuts (which have been in the range of 20-50% for General Managers and Executive Committee members, and even higher for roles at the corporate level) are likely to remain the same for the next 6 months of the current financial year. Furthermore, the industry is also likely to witness salary cuts across other levels in the hierarchy.
We at Hotelivate, believe this to be a good time to review, rework and reduce any enlarged gaps in pay scale between different grades. An example can be that of a hotel's General Manager, when compared to the next in line role at the property level. A similar exercise for positions based at the regional level will also assist in rationalising salaries across all levels.
Uberisation of Key Services – Through Hotelivate's publication of the 2018 India Hotel Manpower Study©, we had nudged our industry leaders and stakeholders to deliberate upon the idea of "Uberisation" or, in simple terms, outsourcing of key services. Now is the time to take serious cognizance of this concept and implement actionable steps in this direction. Uberisation of key services is likely to become the new normal for hotel companies. Key operational areas like Food & Beverage, Marketing & PR and Revenue management will be outsourced to consulting companies with specialisation in these areas. Hiring of experienced resources at high salary points will cease to exist. This, is turn, will lead towards a leaner payroll structure whilst ensuring uncompromising operational excellence. Hotelivate's Revenue Management team works on a similar outsourcing model and manages revenue distribution for multiple hotel companies across the region.
Flexible Staffing Model at the Management Level – We believe that current business dynamics will lead to flexible staffing at the management level, allowing a more productive use of trained and skilled individuals that are well prepared to respond to cyclical business needs. Although contractual hiring and ad hoc casual hiring are common ways of adding resources to support transient and seasonal demand, the Flexible Staffing Model at the Management level will be an efficient and cost-effective trend that will impact hotels across leisure and resort destinations.