Bhubaneswar – At An Inflection Point
Bhubaneswar, the capital of Odisha, is popularly known as the Temple City of India, and more recently, the Sports Capital of India. Equipped with an international airport, it is a gateway city and hub of varied economic activities in the state. Bhubaneswar is fast becoming a centre for health, education, and tourism while continuing to be the base for major industrial and corporate houses in Odisha.
Its rich history, culture and cuisine add to the charm of the place. Bhubaneswar has been known by several different names over centuries, such as Kalinga Nagar, Tribhubaneswar and Ekamra Kshetra. The prehistoric monuments, temples, and caves, like Lingaraja Temple, Rajarani Temple, Parashuramesvara Temple, Udayagiri Caves and Khandagiri Caves, to name a few, are a testament to the city's diverse and noteworthy heritage. Bhubaneswar became the state capital in 1948 and is one of modern India's first planned cities, the others being Jamshedpur and Chandigarh.
Bhubaneswar is distinct from many other Tier-II cities in India, as it houses all the leading IT/ITeS companies in the country, such as Infosys, Tata Consultancy Services, Tech Mahindra and WIPRO, and is a major education hub in East India, with renowned institutions like AIIMS, IIT, KIIT and XIMB, among others, attracting students from all over India. In addition, Bhubaneswar has invested heavily in sports infrastructure and successfully hosted many domestic as well as international sporting events; thereby, earning the tag of 'Sports Capital of India'.
Exhibit 1: Schematic Representation of Bhubaneswar city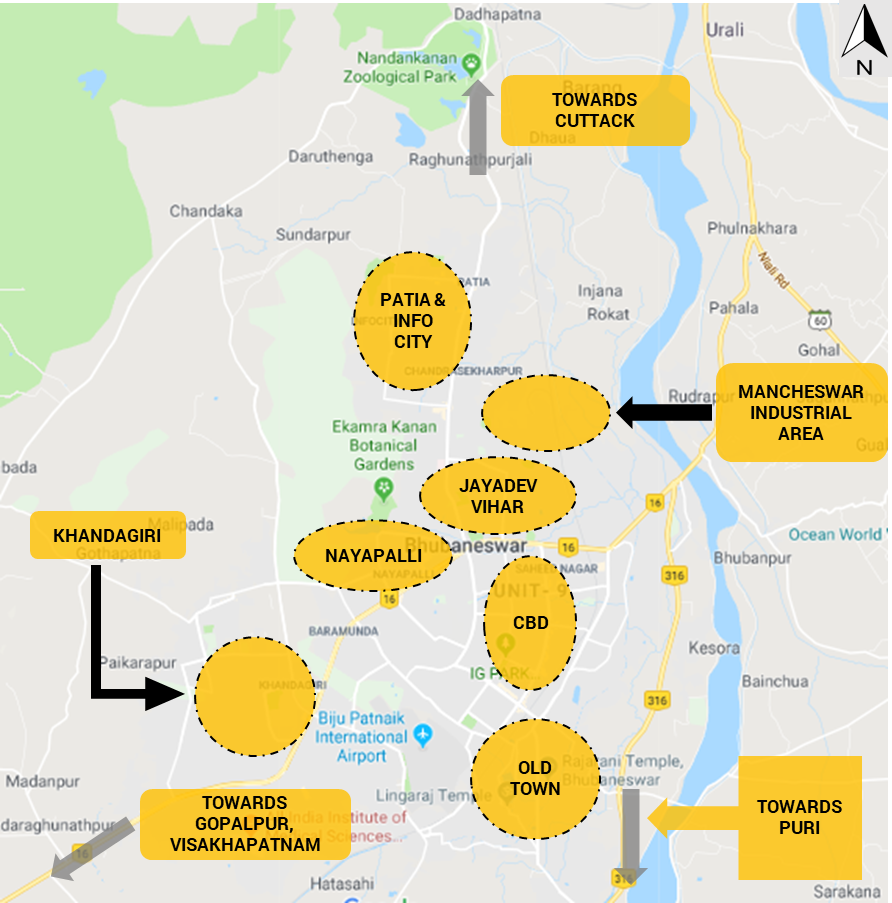 Source: Hotelivate Research
From a tourism perspective, the city is part of the golden triangle of Odisha along with Konark and Puri. Moreover, its proximity to Chilika Lake makes it a highly desirable destination for both domestic and international travellers. However, from a visitation standpoint, domestic travellers far exceed the number of international travellers to the city. In terms of air traffic, Bhubaneswar Airport handled 40.6 lakh domestic passenger visits in 2018/19, a 29% jump over the previous year, whereas the number of international passengers were recorded at a little over 94,000, a 3% jump over the previous fiscal. Both groups of travellers grew at a CAGR of more than 35% in the last five years. In terms of total tourist visits, a little over 79 lakh domestic tourists, and 61,000 foreign tourists visited Bhubaneswar in 2018/19. The top three domestic source markets were West Bengal, Maharashtra, and Madhya Pradesh, while in terms of international source markets, China, Japan, UK and the USA rank the highest.
Exhibit 2: Geographic Representation of International Source Markets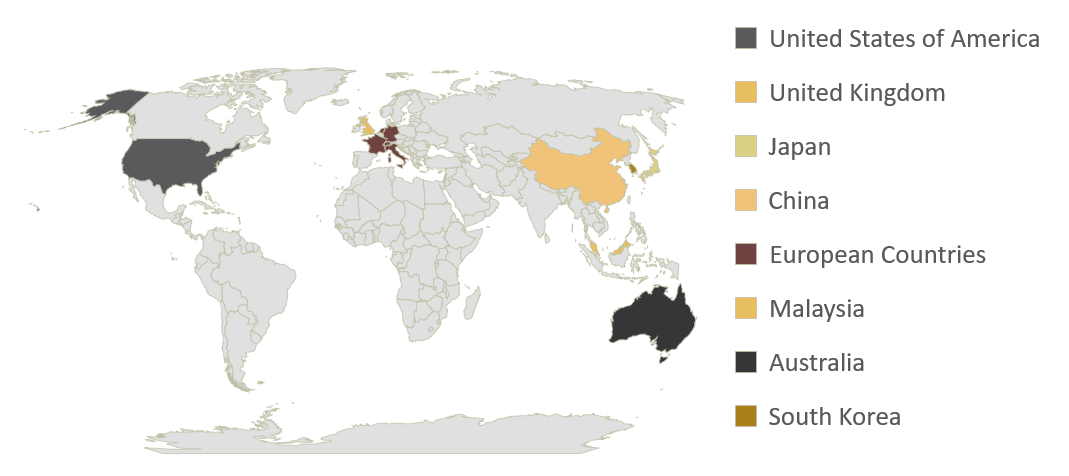 Source: Statistical Bulletin 2018; Department of Tourism, Odisha
Exhibit 3: Percentage Share of International Tourist Arrivals by Source Country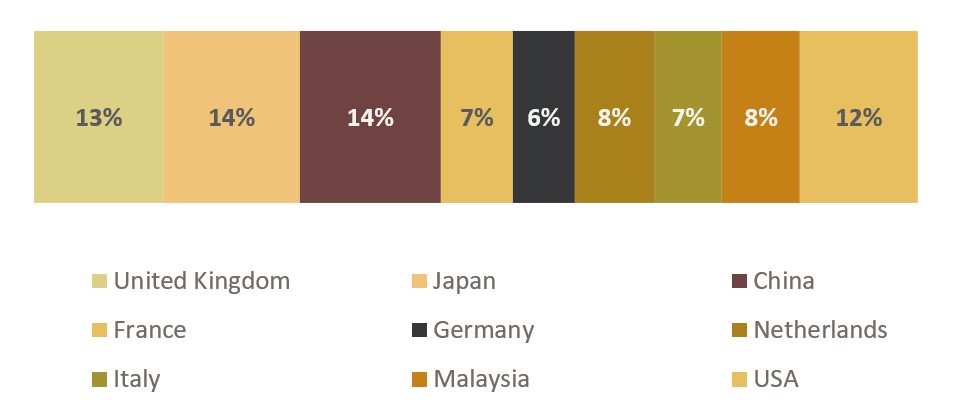 Source: Statistical Bulletin 2018; Department of Tourism, Odisha
Despite the staggering growth of tourist arrivals, the city lacks adequate quality accommodation, and the branded hotel market remains largely in a developing stage. Most of the hotels are independent and operate in the budget to upper midmarket space, catering primarily to the needs of corporate travellers who visit the city for business, conferences and industrial projects. Thus, the Commercial segment forms the cornerstone of hotel business in Bhubaneswar, followed by the MICE, Leisure and Extended Stay segments.
Prominent hotels in the city include The Trident, Mayfair, Swosti Premium, Ginger, and more recently, the Fortune Park Sishimo that opened in 2016 – the first new hotel the city has seen since 2009. That being said, Ginger Bhubaneswar was revamped and relaunched in October 2019 as part of the brand's repositioning strategy to transform the chain into lean luxe hotels, reflecting contemporary design and interiors.
Historical average occupancies, thus, have been high even as average rates point towards the slightly price-sensitive nature of demand; in 2014/15 marketwide occupancy stood at 67%, while the average rate was INR 3,952. By 2018/19, marketwide occupancy almost touched the 72% mark, rising by 7% while average rate grew by a little over INR 900 over figures recorded in 2014/15, witnessing a CAGR of 5% over the last five years.
Exhibit 4: Marketwide Hotel Performance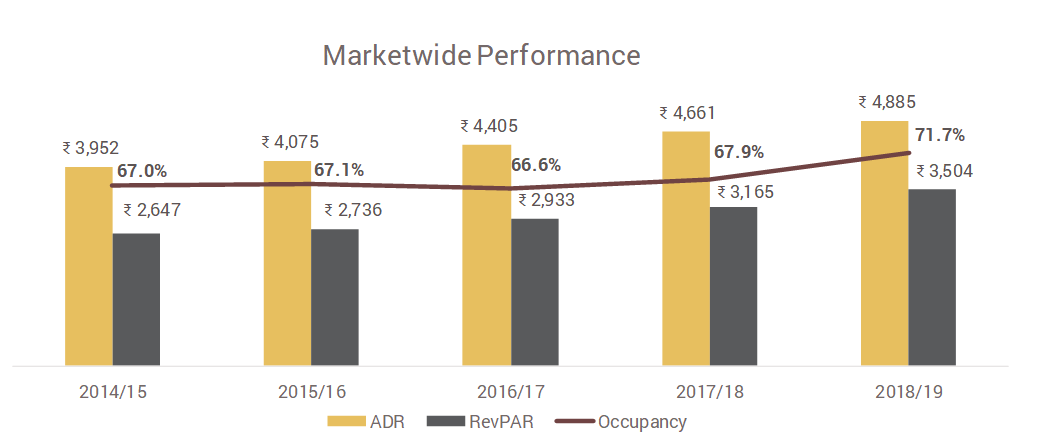 Source: Hotelivate Research
Exhibit 5: Hotel Supply Trends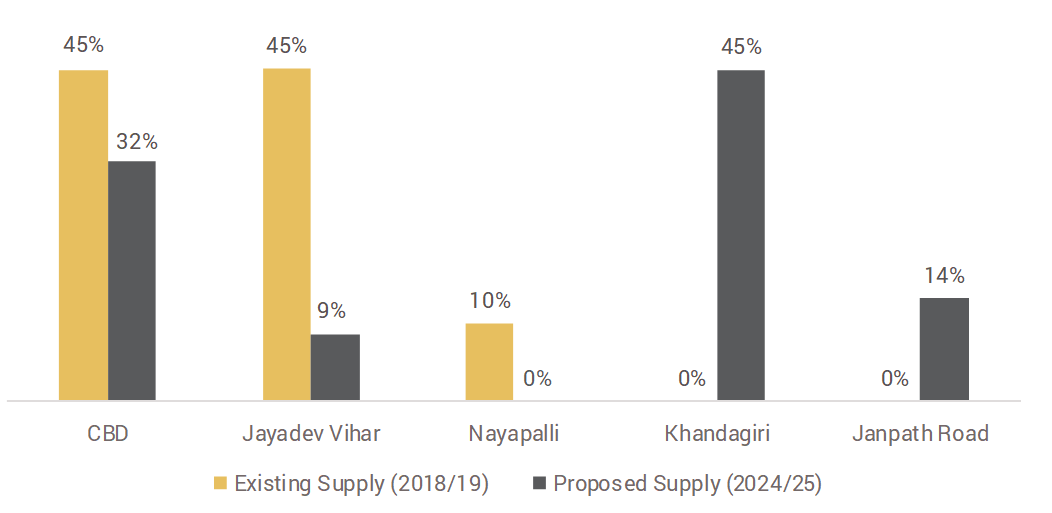 Source: Hotelivate Research
Moving forward, branded hotels such as Vivanta, Welcomhotel, Novotel, Lemon Tree Premier, Howard Johnson and Holiday Inn are anticipated to enter the market, doubling the existing base of branded rooms from 480 to nearly 1,000 rooms by 2024. This in turn will not only bridge the gap between unbranded and branded supply in Bhubaneswar, but also cater to the increasing demand of travellers visiting the city. New supply is also anticipated to result in occupancies getting more rationalized, while average rates could witness improvement in the medium-to-long term, owing to the presence of more branded players. The city is also poised to expand further mainly in the Patia region, and the southwestern part known as Khandagiri. Furthermore, many planned development projects are expected to take off in the city this year, which include the construction of a 65 km-long ring road to ease traffic congestion, smart city-related infrastructure projects, development of commercial as well as retail spaces and addition of another terminal at the existing Biju Patnaik International Airport.
We at Hotelivate believe that hotel demand in Bhubaneswar will continue to grow on account of improved connectivity to other international destinations, its transformation into a smart city as well as new investments being made by large corporations in the state. These will fuel demand for the Commercial and MICE segments, presenting an opportunity for developers to build hotels across positioning in the market.