India State Ranking Survey – 2019
The India State Ranking Survey by Hotelivate in association with the World Travel and Tourism Council – India Initiative (WTTC – II), is a biennial publication that assesses the relative competitiveness of the nation's 30 states in terms of Travel & Tourism potential across 12 identified parameters. This is the sixth edition of the publication since its inception in 2009.
One of the most vast and diverse countries in the world, India presently ranks 34 out of 140 economies in terms of Travel & Tourism Competitiveness, largely on the back of its rich natural and cultural resources, strong price competitiveness, international openness (visa requirements, bilateral air service agreements and regional trade agreements), transportation infrastructure and business environment. However, areas of overall Travel & Tourism policy, tourist service infrastructure (including hotels), safety and security, health and hygiene, information & communication technology (ICT) readiness, and environmental sustainability continue to be in need for significant improvement.[1] The Prime Minister in his independence day speech this year acknowledged that many destinations within the country with high tourism potential do not have the most basic tourism infrastructure; yet, he urged all the citizens of India to visit atleast 15 destinations across the country before 2022 citing that the increase in visitations will boost tourism and contribute to the destination's local economy, ultimately resulting in an improvement in infrastructure.
In terms of tourist arrivals, a total of 1.4 billion international arrivals were recorded in 2018 globally, of which 25% were to the Asia Pacific (approximately 348 million).[2] India received approximately 10.56 million international tourist arrivals (excl. NRIs), accounting for 3% of Asia Pacific and 0.75% of the global tourist arrivals.

India's Travel & Tourism GDP stood at US$247 billion in 2018, growing at 6.7% over the previous year. This growth was largely driven by domestic spending which constitutes 87% of the direct Travel & Tourism GDP – a trend that has been fuelled by improved regional connectivity, rising spending power of the middle-income population, proliferation of low-cost carriers, weakening of the Indian Rupee (that makes domestic holidays more attractive than international ones), and active participation of the industry.[3]
In addition, Travel & Tourism generated nearly 43 million jobs in India last year (direct and indirect); with only China (around 80 million total jobs) surpassing it in the Asia Pacific region. It is forecasted that the sector will support 53 million jobs over the next 10 years. From an investment standpoint, Travel & Tourism attracted around US$46 billion in 2018; though this ranks second in the Asia Pacific region, it lags China's Travel & Tourism capital investment of US$162 billion by far.[3]
Thus, to sum it up in metaphoric terms, India's Travel & Tourism economy is a mixed bag with sweet candies and sour punks. Though it has improved in several aspects over the years, the country still needs to overcome many challenges and grab opportunities within its reach in order to establish itself as an influential tourist destination in the world.
Figure 2 highlights India's standing vis-à-vis other Asia Pacific countries in terms of total contribution of Travel & Tourism to GDP.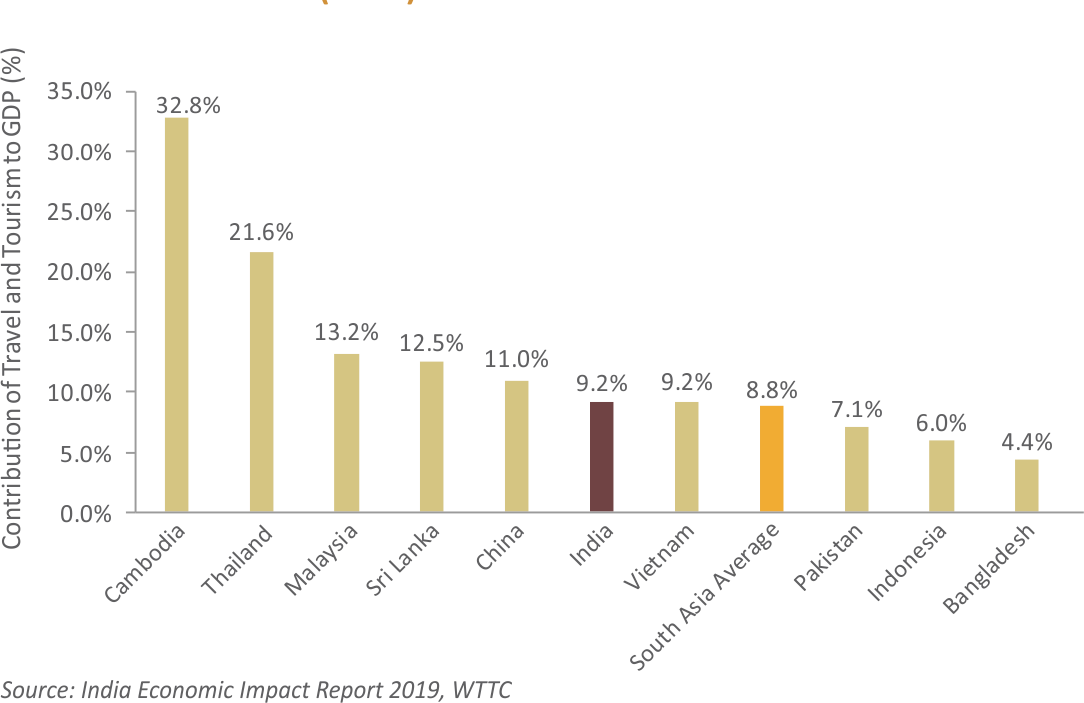 The Travel & Tourism industry consists of multiple verticals that include hotels, airlines, and travel and tour companies. The India State Ranking Survey focusses on the first vertical and aims to identify the best performing states in the country from the hospitality industry's viewpoint. In order to meet this objective, we have employed 12 key parameters or criteria for evaluating the performance of different states. While some parameters apply specifically to hotel developers, others are more relevant for state governments. These 12 parameters are:
Tourist Visits
State Expenditure on Tourism
Green Cover
Presence of Branded Hotel Rooms
GSDP Per Capita
Effectiveness of Marketing Campaign
Urbanisation
Road and Railway Infrastructure
Aircraft Movement
Literacy Rate
Ease of Doing Business
Intangible Aspects