Policy Reforms: Indian Hotel & Hospitality Sector
Tourism – Aviation, Hospitality and Travel Services – is an industry that is highly susceptible to repercussions of adverse events such as terrorist attack, natural disasters, epidemics and social unrest. In a little over the last two decades, events such as 9/11 in New York, 26/11 in Mumbai and the Tsunami of 2004 in South-East Asia wreaked havoc for the Travel and Tourism industry, denting businesses, slowing down demand and negatively impacting business confidence across countries and regions. The scale of the COVID-19 pandemic on the global and Indian economies is unparalleled in living history and the impact remains to be ascertained. In India, the Travel and Tourism industry was the first to be hit by the crisis and may well be the last to recover. Hotels have been shut for about four months, resulting in minimal revenue and cash flows, and this has hurt employment at large for the Hotel and Hospitality sector.
The World Travel and Tourism Council's 2019 Annual Research highlights that Travel and Tourism's contribution to GDP in 2019 was 6.8% amounting to INR 13,681.1 billion and showing growth of 4.9% over the previous year. The contribution of Travel and Tourism to employment stood at 39.8 million jobs or 8% of total employment. These figures are set to change in 2020 and the effects of the COVID-19 pandemic will resound not only on India's Travel and Tourism, but on the overall economy as well.
In India, Hotels typically employ ~1.5 staff per available room in Metropolitan cities and ~1.7 staff in other cities. As we restart and reboot the economy and embrace the new normal, the Hotel and Hospitality sector of India deserves an opportunity to move on to a new growth curve. A parity of laws and frameworks for this sector across States & Union Territories is a much-needed reform that can not only boost investor confidence but also facilitate employment.
We understand that Tourism is on the concurrent list of and was included as a State-subject in the Indian Constitution. While the Government of India provides an overarching guideline, the State Governments have the onus of directing and implementing policy under many heads. This whitepaper, POLICY REFORMS: INDIAN HOTEL AND HOSPITALITY SECTOR, outlines and details several such areas requiring immediate intervention from the States and Union Territories as well as the Government of India. These bold structural reforms, policy tweaks and revisions are the need of the hour to keep the Hotel and Hospitality sector afloat, competitive with our neighbouring countries in the region while continuing to be an attractive value proposition to investors and owners. The result of these reforms will be spectacular for India's Travel and Tourism industry, given the losses incurred during the ongoing pandemic, and can be made visible in the coming 12 to 24 months. How quickly our recommendations are implemented will be directly proportional to how soon the Indian Hotel and Hospitality sector will bounce back with a new preparedness for future adversities. It may be noted that reforms recommended in this whitepaper have no direct financial implications to the exchequer at the Central or State level.
We are grateful to InterGlobe Hotels for providing us with initial insights into challenges faced in the development and operational phase and to Hotelivate for adding further research and insight to this whitepaper.
The Hotel and Hospitality Sector currently faces several challenges due to inconsistent norms, restrictions, policies and regulations. Through stakeholder consultations and research, we have found that each State and Union Territory has its own building bye laws, excise laws, licencing norms etc. This lack of consistency exists not only across states but within each state and from one government body to another, as well. This White Paper advocates a less complex process of setting up a hotel in order to attract investments from all economic strata and across categories – whether a one room boutique Hotel or a 500-room property. To reinforce this, we have attempted to provide a comprehensive comparison with International markets that are competitive with Indian Tourism in the South-Asian, South-east Asian and Middle Eastern regions.
This whitepaper attempts to highlight relevant subjects requiring the attention of the Government of India or State Governments, depending on the topic, using two tags, as shown below.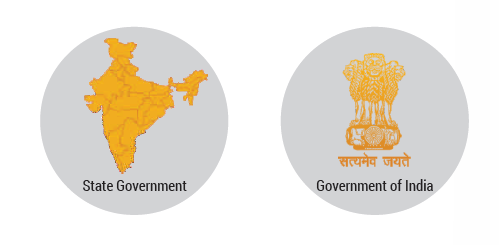 By way of this whitepaper, we urge States, Union Territories and the Government of India to join hands and make the Hotel and Hospitality Sector best in class, with competitive hospitality infrastructure, encouraging domestic and international footfall, enabling local jobs and employment and increasing Travel and Tourism's economic contribution.