Scalability Through Innovation – A Potential First for the Hospitality Industry | An OYO Moment Has Arrived!
For the past many decades, domestic and international hotel companies have used different yardsticks to measure success. Frequently and conveniently, these yardsticks change based on what suits a company the best. Some measure success by being the largest in terms of the number of hotels, keys or even market cap. Others, who are unsatiated, or fail to make the grade across these barometers, claim to have the highest number of loyalty programme members or the highest number of brands. Should that also fall short, you can find them asserting to be the largest regionally or having the greatest presence in secondary cities. Some insist on being the most environmentally sustainable, while others aspire to be the most profitable. Then there are success measures based on the number of managed and franchised properties. I could go on and on, but I think the point has been made. As they say, beauty lies in the eyes of the beholder – it all narrows down to who is the one measuring success. Most often than not, these are just cool terms chosen by CEOs and their marketing teams. But then, why blame the hotel industry alone? We will find similar examples across other industries.
The Holiday Inn brand from the IHG portfolio is over 65 years old and has approximately 215,000 rooms (as of Dec 2018). Closer to home, in India, is the Taj Group with a rich legacy of 115-plus years, and it has approximately 20,000 rooms. Marriott, with its acquisition of Starwood two years ago, is currently the largest hotel company with around 1.3 million rooms across its 30 brands. In fact, there have been so many acquisitions recently that it's becoming hard to keep track. Nonetheless, there is something new and exciting happening amid all this. For the first time, an Indian hospitality company is growing at an indisputable scorching pace that should make all of us acknowledge it at least, if not sit up and take notice. If you don't believe me, just see how it has grown in China in just 12 months since January 2018, apart from its home market, India, and other new international markets (Figure 1). If you haven't guessed it already, I am talking about OYO Hotels & Homes. OYO currently has close to 176,000 rooms in India and another 322,000 rooms in China. Additionally, it has a presence in Nepal, Indonesia, Malaysia, the UK, the UAE, and more recently, the Philippines. Totally, OYO has 515,000+ rooms across 17,000+ hotels worldwide, with a goal to be the largest and most preferred hotel chain for the budget-midscale segment by 2023, globally.
Figure 1: Quarterly Growth of OYO's Room Inventory (in 000s) – Dec 2017 to Jan 2019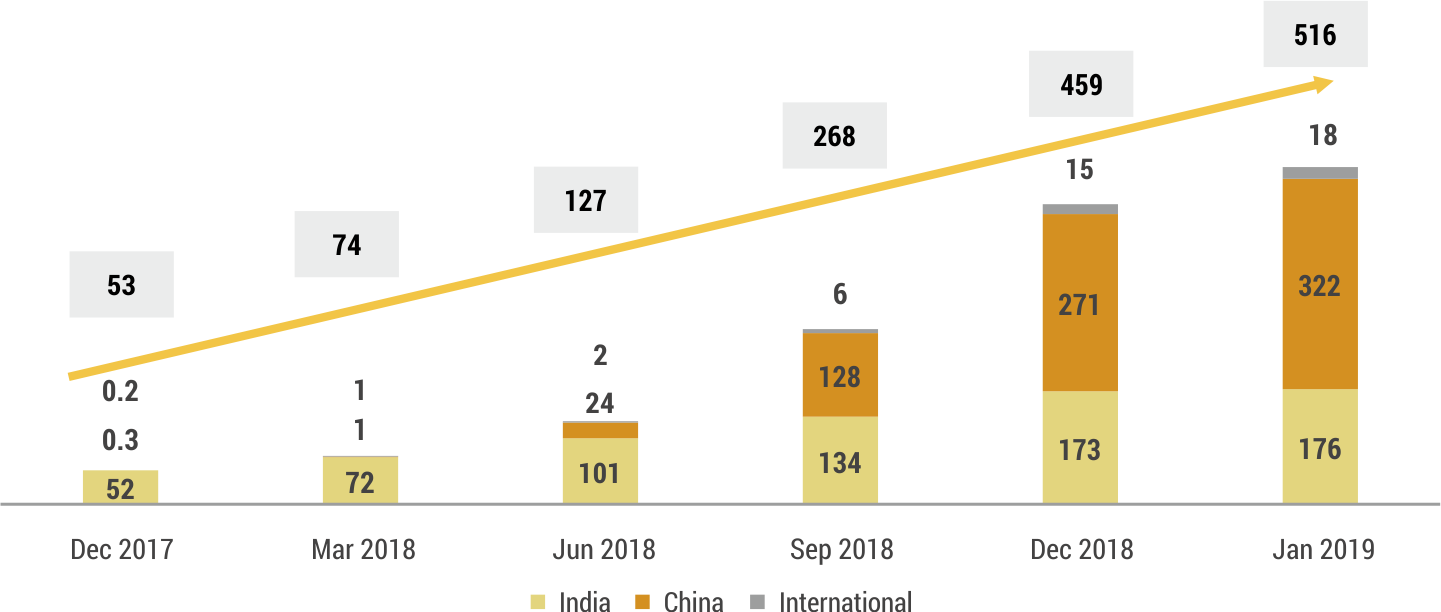 Source: Hotelivate Research
Skeptics from the 'traditional' hotel industry have scoffed at the OYO model, pushing it aside with arguments such as, it is simply an aggregator of budget hotels; it has a poor quality of service; or its deliverables are not comparable with the mainstream hotel industry. It is fascinating to hear the different reasons why all the hotel chains do not want to consider it a competition. Some might even try and convince you by saying that OYO is not a "true" hotel company. Well, OYO did start off as an aggregator back in 2013, but in the past five years, it has evolved into a full-scale hospitality company that operates exclusively franchised and leased assets, growing each day through its innovative model.
OYO classifies its room inventory under two categories – (i) Franchise/Manchise and (ii) Self Operated Businesses (SOB). Approximately 80% of OYO's room inventory in India falls under the franchise/manchise category, with the remaining inventory categorised under SOB. For its budget brand, OYO Rooms (approximately 150,000 existing), that operates on a franchise model, OYO offers branding, management of the unit's rate strategy and inventory allocation, pricing, revenue management, training of staff, and day-to-day operations overseen by an Assistant General Manager deputed for the purpose. In several cases, OYO has also invested CapEx to help upgrade and renovate the property. In addition, the company frequently provides financial support to asset owners, thereby promoting micro-entrepreneurship. So, it's not a plain vanilla franchise. In fact, OYO does a disservice by calling itself predominantly a franchise company, when it is evidently much more than that. Figure 2, below, presents a basic comparison between the responsibilities of the brand under a 'typical' franchise agreement, a management contract and OYO's hybrid model.
Figure 2: Differences in the Brand's Responsibilities – Typical Franchise vs Management Contract vs OYO Rooms Model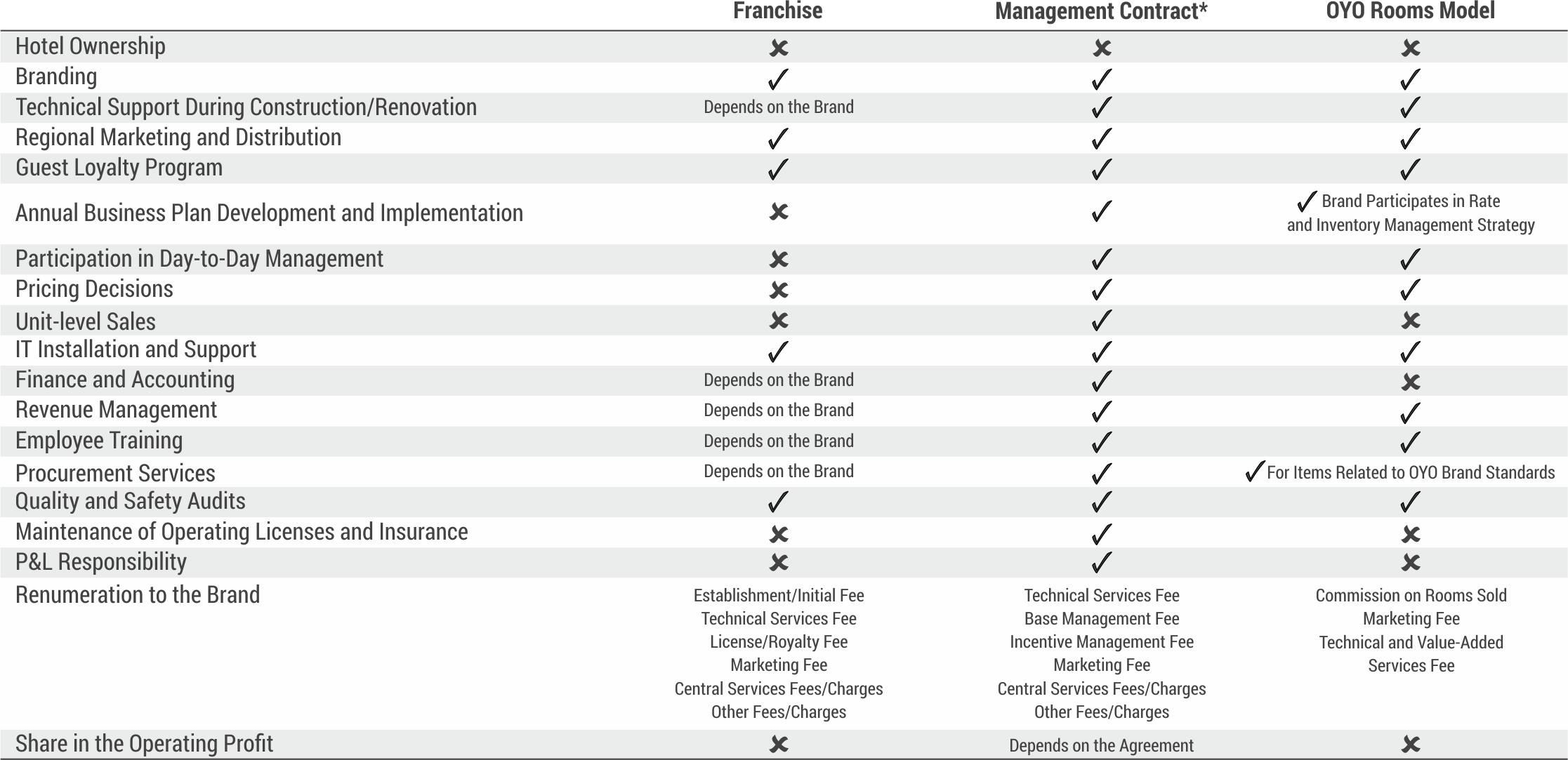 *The management contract model depicted above is that of first-tier management companies, predominant in Asia, which brand as well as manage the property.
Source: Hotelivate Research
While I have presented a rather clinical analysis and comparison of OYO's manchise model when pegged against the traditional franchised or managed hotel models, I do recognise the fact that a large number of these 150,000 rooms are either conversions of erstwhile guesthouses or new-builds that may not have the same cost structure and/or licenses and permissions that are usually required of 'hotels'. That being said, their ability to compete with other branded players in the budget and economy space must not be ignored. Rather than eating into an existing pie, they have, in fact, grown the size of the relevant demand base to now include a much larger populace that was not captured by the branded players in the past. Moreover, the general view that OYO only 'aggregates' or 'converts' guest houses is also completely untrue. In fact, OYO's other midscale and upper midscale brands, such as OYO Flagship, Collection 'O', Townhouse, Silverkey, and OYO Living operate under various models, including management contracts, lease contracts and, owned and self-operated entities. 
To my mind, there are a few striking competitive advantages of the OYO model that make it significantly more scalable than traditional hotel companies. First, OYO is a lot more flexible when it comes to brand standards. While I am not undermining the importance of the guidelines set by brands to ensure consistency across properties and positioning, I do see merit in OYO focussing more on the basics than the frills. After all, a clean and safe accommodation, with a comfortable bed, adequate technology, perhaps suitable dining options, and trained staff is all one really needs – especially in the budget-to-midscale segment. Yet, we find typical franchise and management contract negotiations extending to anywhere between 10-18 months (if not more), with considerable back-and-forth between the owner and the brand regarding the property improvement plan (PIP) and other key commercials. In contrast, signing up with OYO could take as little as 10 days! Thus, one can see why, OYO is far ahead in the game compared to other hotel companies, who are unrelenting on prototypes, hampering their agility to expand swiftly. 
Second, OYO lays a lot of emphasis on technology – something that the traditional chains have consistently lagged in embracing. OYO focusses on reducing operating costs and improving serviceability on one hand, and attracting travellers and bookers with a user-friendly platform, on the other. It has a dedicated software and engineering team that churns out new apps and software updates on a daily basis. For instance, ORBIS, a business intelligence tool used by the OYO sales team, instantly calculates the hotel's projected occupancy rates and revenues (potential upside after joining the brand) by analysing hundreds of internal and external data points. Moreover, OYO has its own "mobile" property management system for ensuring efficient operations, as well as Krypton, an internal audit app to inspect hotels and capture customer feedback in real time. 
Another interesting aspect of the OYO model is that over 93% of the demand comes through its own channels, including the website and mobile app, indicating low reliance on third-party online travel agents (OTAs). Also, repeat customers for OYO generate about 73% of the revenue. This can be attributed to a seamless product experience, efficient operations, and solid distribution capabilities. 
Notwithstanding the above, OYO entered the hospitality industry as a disruptor, without a template. And as is the case with first-movers, there are benefits and challenges that come with it. OYO too is trying to overcome its share of issues, especially those related to service quality, transparency, low margins and the massive quarter-on-quarter cash-burn it is having to incur at the moment in the interest of scalability. However, looking at the leadership's desire to constantly improvise, these could iron out over time. For now, we are simply surprised by the way a model that has proven itself as being sustainable, is so easily dismissed by the rest of the industry. After reading this article, if the traditional hotel companies still choose to ignore OYO, we say, do so at your own peril!