Elevation through Innovation: Why Hotelivate?
Hotelivate:  As an entrepreneur, one needs to learn to adapt and innovate fairly quickly. Twenty years is a long time and I have had the good fortune to be able to experiment with and establish several new services and businesses in these past two decades. The phrase "ease of doing business" refers to a fairly recent phenomenon in state and government circles. Back in 1997, when we started as HVS, the exact opposite was in place and every hurdle that was available was thrown at us. It took me months to set upa simple business entity and at least two months to get a simple phone landline.
Fortunately, mobile phones had just arrived. And, although the cost was a formidable Rs. 16 per minute, the facility was at least available, allowing my entrepreneurship to be open for business and grateful for the small mercies of the great Indian bureaucracy. Fast forward to the present. So much has changed in all spheres of the hospitality industry across the globe.
In India, we moved ahead from 120 branded hotels in 1997 to approximately 800 branded hotels today. Words and phrases unheard of back then are now our day-to-day vocabulary and part of our survival kit. Imagine today not knowing phrases or words below because they simply did not exist as they related to hospitality.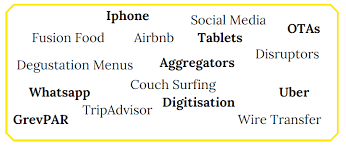 One thing that came to me early on in my career was that one must learn to specialize to increase one's success quotient. Globally, HVS was (and is) the largest hospitality business consulting firm specializing in hotel valuations and we wanted to replicate its success in India. However,we soon felt the need to dig deeper: HVS started Executive Search in hospitality; then started conferences and suddenly HICSA was born; and Marketing & Communications followed shortly thereafter.
Clients started coming to us for things we had never done elsewhere globally. So much so, that an organization even approached us for a feasibility study for a hospital. When we wanted to turn it down, their management responded saying we had the right credentials and even the right name: "Hospital Valuation Services", and that was as good as Hospitality because there were no other specialized or reputable consultants in that field.
Today, we see an opportunity to become a 360-degree consultants for the hotel industry. At Hotelivate, we want to provide the best of service: if not in-house then in a tie-up with the best in class. We call this elevation through innovation. At the core of this is our existing relationship with HVS and its current service offerings, namely: Feasibility studies, Valuations, Management & Operator Searches, Asset management and Executive search.
However, we see scope to do a lot more, as demonstrated by our successful innings with the HOSI and HICSA conferences in India and the THINC conferences in Bali, Colombo and Cape Town. We recently also launched Professional Skills Development where we may be tying up with a well-known international partner.
Hotelivate has also tied up with two other partners for the following services:
The first; Hotelivate's Project Execution Planning & Advisory (PEPA) service is in partnership with Ascentis that provides strategic guidance and leadership throughout the initial development stages of a hotel project. A unique partnership that brings to fore the experience of professionals in the spheres of area & space configuration, design planning, capital budgeting and pre-construction planning. The PEPA service plays a critical role in the timely and cost-efficient completion of hotel projects.
The second; Hotelivate's Debt Advisory is in partnership with Pankti Management Consultancy and is focused on debt syndication for Real Estate, Hospitality and Infrastructure projects. The scope of the debt syndication practice includes project finance, working capital finance, mezzanine finance, refinancing and recapitalization activities. Loans are designed and structured to meet the cash flows of the company and the debt servicing capacity of the investor company. 
Additionally, Hotelivate's partners are looking to explore opportunities for us to potentially become incubators of new businesses linked to hospitality and technology; where we step in to help 'elevate' through innovative ideas and team support.